Partition Resizer Upgraded to v2.5 - Wipe Partition Supported
Summary
IM-Magic Partition Resizer recently added "Wipe Partition" to make disk completely new like a brand new one. There are five ways of writing data to the disk partition to meet different technology requirements for both tech-naives and professional users.

IM-Magic Partition Resizer
April 5, 2015 : IM-Magic Partition Resizer, developed by IM-Magic Inc., is now able to help users protect privacy by removing the old data on the disk that no software is able to recover the old data with the function "Wipe Partition" in Partition Resizer v2.5.
Prevent data from being recovered by anyone who may access the disk by simply wiping out all old data with just one click of Partition Resizer which provides 5 levels of wiping technology. The wiping technology comes with the filling disk partition blocks with zero, one, or zero&one, and also advanced levels of wiping method like DoD 5220.22-M (3 passes) and
DoD 5220.28-STD (7 passes).
"No matter the quick wiping mothod, or the advanced slow wiping method, Partition Resizer makes the best way for users to cleaning out all their old privacy if they want to send away their disks but with privacy ensured." said Tim, CEO of IM-Magic Inc. "It only takes just a few clicks and your disk would become completely clean with Partition Resizer's recently added function - Wipe Partition".
Features of IM-Magic Partition Resizer
IM-Magic Partition Resizer is with more advanced features of managing disk partitions that users may use this utility to resize any partition, shrink partition, redistribute free unallocated space, extend partition, convert disk mbr to gpt etc.
How to use Wipe Partition
If you want to remove all old data on your disk, it only takes a few minutes for the disk to become complete clean of data that no program is able to recover the old data.
Firstly, Please download and install Partition Resizer Free on your PC.
Secondly, Launch the software and find the partition you need to wipe and then right click the partition, you will see an option "Wipe Partition" as followed. (Please note, if you need to wipe the entire disk, please right click the disk icon in Resizer and there will be an option "Wipe Disk")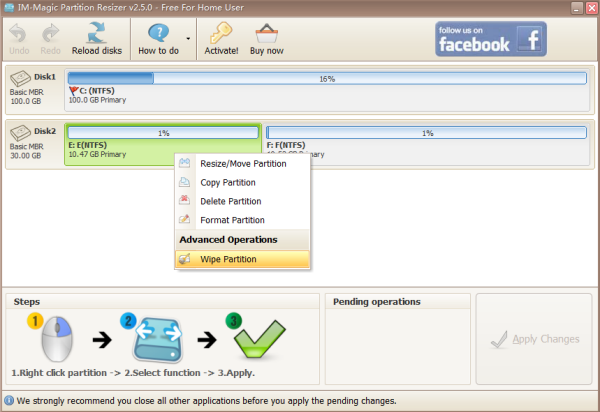 Thirdly, Go to the Wipe Partition and make a choice on the following wiping method and then click OK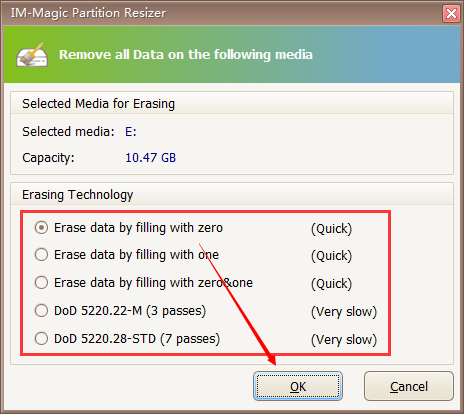 Tips, for the quick method of wiping disk, it only take a few minutes, while the advanced levels takes longer time to finish.
Price and Availability
IM-Magic Partition Resizer Free is a free program for home users
IM-Magic Partition Resizer Pro is for commercial use for only US$29
IM-Magic Partition Resizer Server is for Windows Server OS with price US$99
IM-Magic Partition Resizer Unlimited is for company, orgnization unlimited install within location with best price US$199
Copyright © 2017 IM-Magic Inc. All rights reserved. Windows® is trademark of Microsoft Inc., and Partition Magic® is trademark of Symantec Inc registered in the U.S. and other countries . IM-Magic's software is not developed by or affiliated with Microsoft nor Symantec Inc.