Summary
Suppose you are using Windows Server and suddenly realize that the C drive is entire. You are constantly receiving alerts for low disk space. What will be your next step? We are here to guide you with practical steps to deal with c drive running out of space server 2022. Use the hacks and create space in your C drive.
Introduction

Have you ever faced an issue like c drive running out of space server 2022 or low disk space on system c drive on Windows server 2022? What does it result in? This scenario has many repercussions, wherein you may feel your Windows server slowing down or getting stuck. Your PC may also take too much time to boot up. Your programs may get stuck or hang up in between and whatnot.

But do not worry, as we are up for valuable methods that can act as a solution to your issue.
Freeing UP Disk Space on Windows Server 2022 [6+ Ways]
You may experience your System running slowly if your System C drive gets full. You must fix this c drive low disk space space issue to get your server 2022 device run smoothly again. Try the solutions we are referring to here after checking your device is not suffering from any virus attack.
Method 1: Resetting Page File
A page or swap file is available on C to drive as a default feature. It is used for compensating RAM. The page file may take dozens of MB disk spaces. You may move the page file onto another partition with adequate free space.
Steps to Use:
Step 1: Tap on the 'Windows + R' keys altogether. Write 'sysdm.cpl' and tap the 'Ok' option.
Step 2: Once you see a pop-up window, tap on 'Advanced' and then tap on 'Settings' You will see the option under the 'Performance' option.
Step 3: In the window under the 'Performance' option, tap on Advanced. Then tap' Change' under the 'Virtual Memory' option.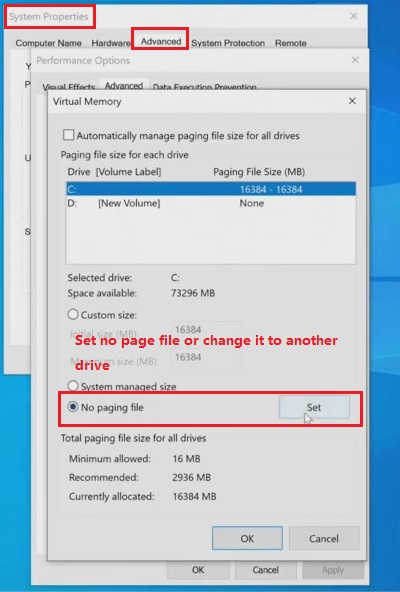 Step 4: Look for the 'Automatically manage paging file' option and uncheck it. Tap on C drive and opt for 'No Paging file' After that, tap' Set' to disable page files on the C drive.
Step 5: Then tap on the drive you need to transfer the page file. Tap on the System Managed size and then on the 'Ok' option.
Note: To make the operation successful, reboot your PC.
Method 2: Decreasing Recycle Bin
Once you press the delete option without using the shift key in addition to it, the files will dump into the Recycle bin. By default, the recycle bin takes up space in the C drive and runs out of space. Then, it results in the c drive running out of space server 2022. For this, you can reduce the size and then change the Recycle bin location to a partition with a larger space.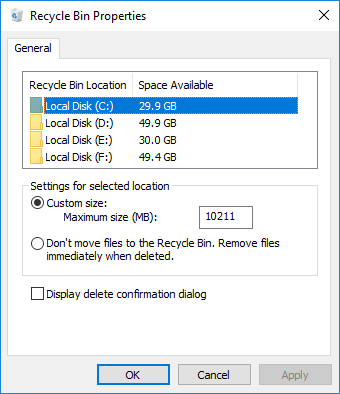 Steps to Use:
Step 1: Tap on the 'Recycle bin.'
Step 2: Make a selection of the Recycle bin driver.
Step 3: Select 'Customer size' and enter the amount; for confirmation, tap on the 'Ok' button.
Method 3: Deleting Shadow Copies
If you have enabled shadow copies on your device, you can delete them to resolve the c drive running out of space server 2022.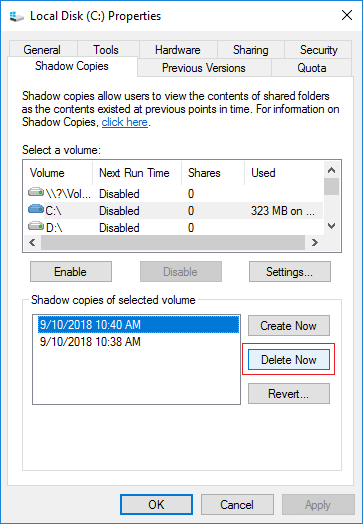 Steps to Use:
Step 1: Start by opening Windows File Explorer.
Step 2:
Move ahead by right tapping on the C drive.
Tap on properties.
Switch to Shadow Copies.
Step 3: Select previous copies and tap the 'Delete Now' option.
Method 4: Turning on Storage Sense
If you are facing a c drive running out of space server 2022 issue, and you cannot manage the area available on your C drive, try this method. You can use the feature of storage sense on Windows. You will notice your System getting cleaned up automatically by removing files that are not needed. It also cleans up the data from the C drive.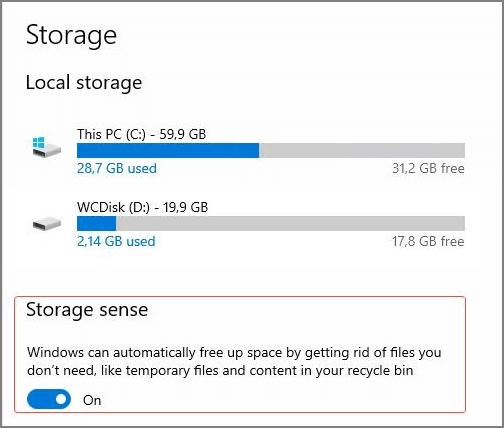 Steps to Use:
Step 1: Make a move by opening the 'Settings' app on Windows PC.
Step 2: Now tap on 'System' and then on 'Storage.'
Step 3: Go ahead by toggling the slider for Storage sense.
Step 4: Make a configuration of settings for Storage sense. You can go ahead with the default settings of storage sense. Alternatively, you can make a configuration as per your choice.
Method 5: Uninstall Extra Programs
It would be best to notice that a few apps take up more space on your PC, but it is better to remove these apps for creating some space on your device.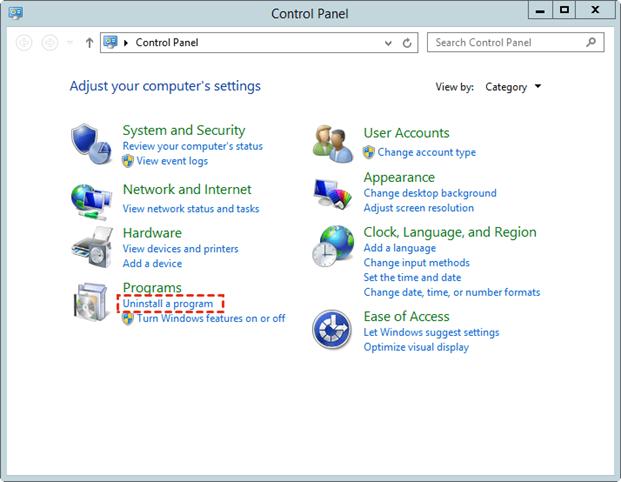 Steps to Use:
Step 1: Tap on 'Windows + R,' write 'control,' and tap on the 'OK' option to open the 'Control Panel.'
Step 2: Under 'programs, ' tap on 'Uninstall a program' from the pop-up window.
Step 3: Now look for the program that must be removed and tap the 'Uninstall' option. Follow the prompts that occur on the screen and get the app removed.
Method 6: Turning Off Hibernation
A Hibernation file, also known as hiberfil.sys, is used in hibernation mode and allocated on the System's C drive. To turn off the way and delete the files associated with it, follow the steps ahead;

Steps to Use:
Step 1: Start by tapping on Windows + R simultaneously, then write cmd and tap on the Enter key.
Step 2: Write powercfg.exe /hibernate off and press Enter key.
Note: If you are looking to enable the Hibernation mode again, then run the command;
Powercfg.exe /hibernate on
Add 100+GB to Extend C Drive with IM-Magic Partition Resizer Server
Data Safety: It's totally safe to free up c drive disk space on server 2022 using Partition Resizer Server under the following two situations:
#1 Same Disk: You may add as much space as it's available on the same disk (Through resizing another large volume or shrinking several volumes and extending the system volume by moving the unallocated space to c drive and getting c drive claim the free space)
#2 Another Disk: Or add more space to the system partition by utilizing free space from another disk using RAID array.
Example: Shrink D Volume, and extend c drive using Partition Resizer
Video Tutorial to Extend Boot Partitions with Partition Resizer
Step1: Download, install and open the IM-Magic Partition Resizer Server Edition

Step2: Choose the big D drive that has a lot of free space and shrink it for producing unallocated space which is vital in the disk space management.
The unallocated space is now available.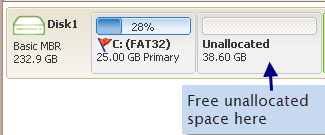 Note: If the unallocated space is produced from other drives and there are partitions that stand in between C and the unallocated space, you need to right click the partition that stands in the way, and go to RESIZE/MOVE PARTITION in Partition Resizer to safely move the whole partition right forward, move the volumes one by one, and then the unallocated space will be moved at the right side of c drive.
Also read: how to move unallcoated space without losing data
Step3: Right click on the c partition and click "Resize/Move"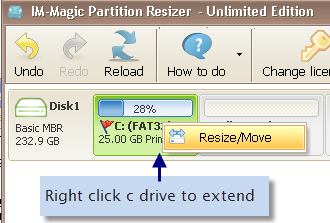 Step4: Now extend the boot partition by dragging the cursor over the bar showing the storage space to get the unallocated space added to the c drive.
Extend c partition with IM-Magic Partition Resizer Unlimited
Step5: Click APPLY button in the software to get every step applied and get volume extended.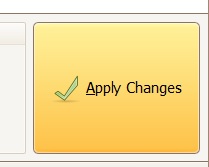 Other Related Information
Scenario#1 Server 2022 c drive getting full for no reason, c drive suddenly become full and slowing down the server 2022 system
Solution: Scan and remove possible virus at first, and then set the system backup file to another drive other than the C volume, clean c drive, and add space to c drive from other volumes on the same disk to get c drive largely expanded.
Conclusion
With our suggested methods, you can create extra space in your C drive, increasing your PC's performance. You can use any of these recommended native disk cleanup methods to resolve the c drive running out of space server 2022. You can also use third-party software to extend space in the C drive by mammoth size.
Also read: how to expand c volume server 2022