Summary
Microsoft regularly upgrades its products, and this time Windows server ISO. Thanks to the latest launch, it now has improved features and is more potent than the previous version. In addition, the updated Windows server 2022 ISO can keep up with the times and is a perfect fit for computers of the next generation. Our article will guide you on your path if you're planning the Windows server 2022 ISO download.
.
Background Introduction
In large and medium-sized businesses that manage enormous databases, Windows servers have been deployed. Advanced features, such as multi-layer security, hybrid capabilities with Azure, and many more practical alternatives that carry on small, medium, and large enterprises' workflow, are included in the recently released Windows server 2022. In addition, Microsoft offers the server for the next generation of computers and various applications since it has a greater capacity for simultaneously administering many OSs. In addition, you can find complete information about Windows Server 2022 ISO in our article, including the cost, system requirements, and download procedure.
Windows Server 2022 ISO Download Methods: Pick what suits you the best
If you have the above system requirements, you're eligible to install windows server 2022 on your system. Here we will bring you the three best options for downloading the latest Windows PC server.
Method 1: Download from Microsoft Evaluation Center
Step 1: Once you open the official site of Windows server 2022, you'll get four options. Select the "Download the ISO" option and click on the "Continue" button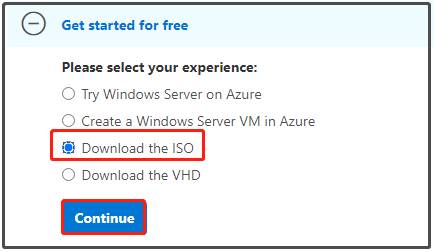 Step 2: In this step, you'll get a page where you need to enter your personal information before moving to the download process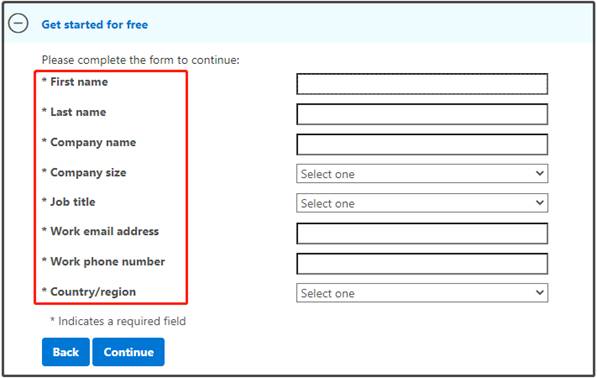 Remember: The Windows server 2022 ISO download evaluation will remain valid for 180 days. However, to eliminate the auto-restart option, you must activate the evaluation version on the internet within ten days of installation.
Method 2: Install Windows Server 2022 64-Bit ISO through MSDN Subscription Portal
You can avail of the MSDN subscription Portal if you use the Windows server 2022 LTSC RTM version. Further, if you want to download Windows server x64 ISO, follow the steps:
Step 1: Visit https://t1p.de/qamo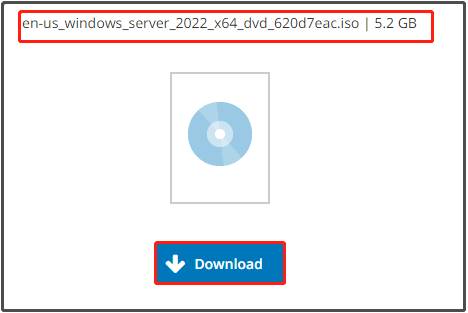 Step 2: Click the "Download" button, then wait for the procedure to be finished.
With this method, you can download the ISO file. Next, you need to install the program from the ISO setup. Follow the below procedures:
Step 1: Open the "Windows Server 2022 ISO" setup zip file

Step 2: Double-click on the file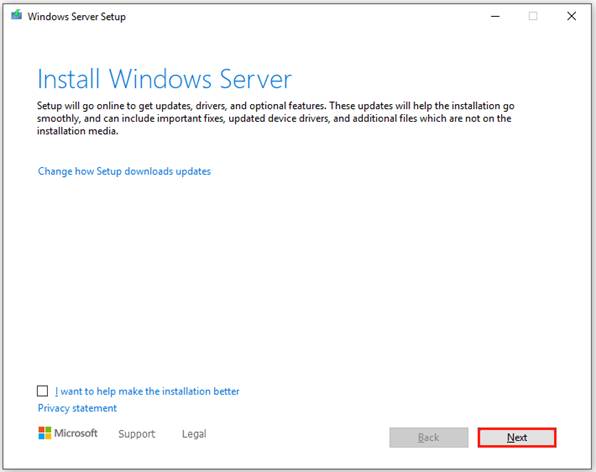 Step 3: Tap on the "Next" button in the Windows Server Setup window and continue.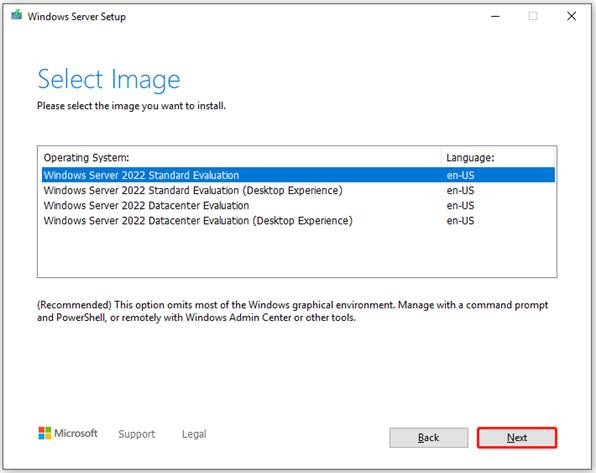 Step 4: Select your desired Windows server 2022 edition from the list and tap on the "Next" button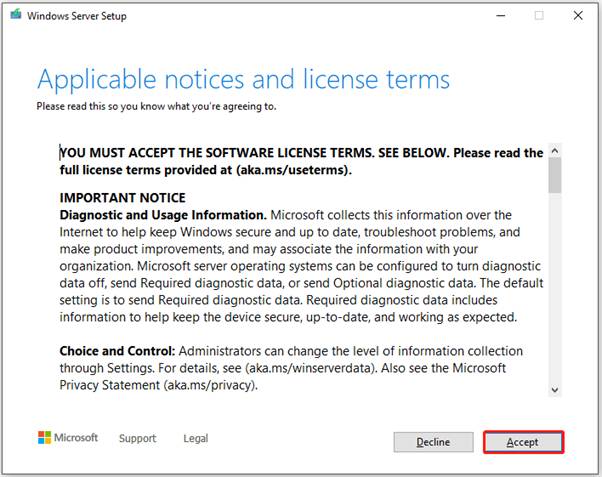 Step 5: Click the "Accept" button to accept the Applicable Notices and License terms.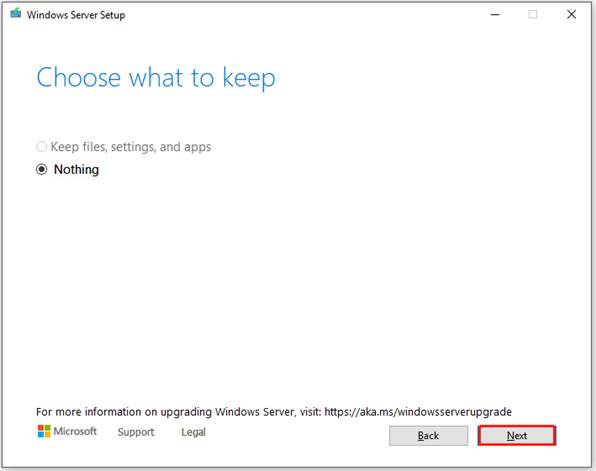 Step 6: Select What to Keep from the two options and click on "Next"
Tips: Keep files, Settings, and app options turned grey off and on; remember it.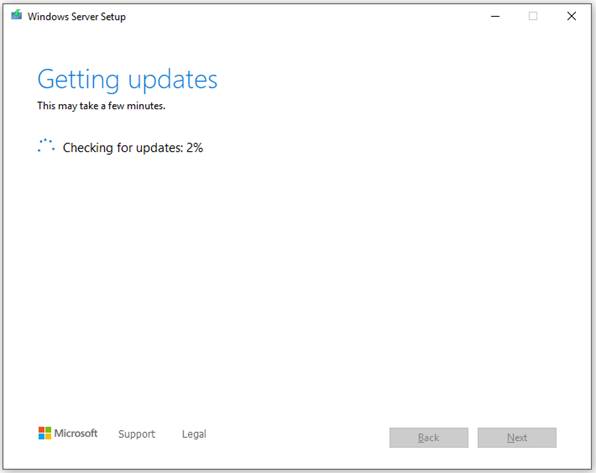 Step 7: The setup program will start checking updates for you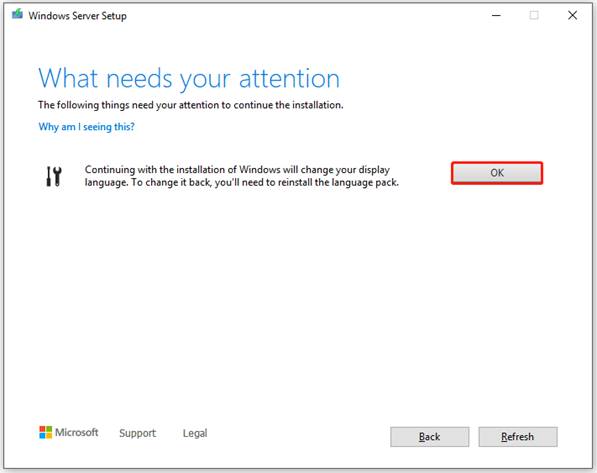 Step 8: A page will appear on your screen to confirm the information; tap on "Ok"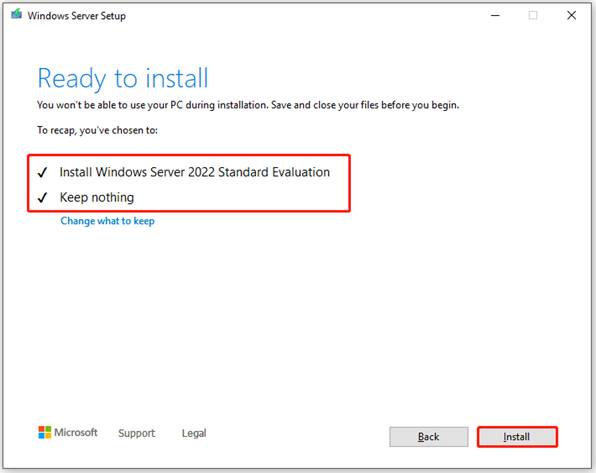 Step 9: On this page, you'll get Ready to Install to verify the configuration you've selected for the Windows server 2022 system. Hit the "Install" button and go with the instructions that appear on your PC screen, and finish the installation process
Method 3: Download Windows Server 2022 ISO Using Direct Link
You can go for the Windows server 2022 ISO download direct link procedure if you feel it'll serve your purpose better. Let's count the below steps:
Step 1: Visit the Microsoft website
Step 2: To download the Windows server 2022 version, click on the link: https://software-download.microsoft.com/download/sg/20348.169.210806-2348.fe_release_svc_refresh_Server_EVAL_x64FRE_en-us.iso.
Step 3: Select "Windows server 2022" and download the image file.
Step 4: If you have a DVD or USB flash drive, copy the file and start the installation
Step 5: You need to run the CMD as "Admin" to activate the Windows server. Now check the command:
Dism/online/Set-Edition:ServedStandard/AcceptEula/ProductKey:xxxxx-xxxxx-xxxxx-xxxxx-xxxxx
(Enter the product key numerals in the x place)
Windows Server 2022 ISO to USB
If you want to install server 2022 iso on a bootable USB and get it installed, here are some guides you may follow.
Video - how to burn server 2022 iso to usb
This video involved with a free server 2022 bootable usb iso burning utility Rufus
Rufus download url: https://rufus.ie/en/
Solution for insufficient disk space for Windows Server 2022 Installation
When there is not enough disk space for Windows Server 2022 installation, you may shrink some space from another partition and add to the system partition, or you may add a new disk to your Windows Server machine and then add the new disk space to the system partition with RAID ARRAY.
Method#1 Shrink disk space from another partition or delete some volume and add it to c drive for Windows server 2022 Installation
Here we made an example of shrinking D volume and adding the space to c drive with Partition Resizer Server. Of course you may also delete a volume to create unallocated space.
Step1: Download and install Partition Resizer, and then open it, right click the D volume in the software, shrink the border of the drive D to right forward to make the unallocated space at the left side of D and right side of C drive.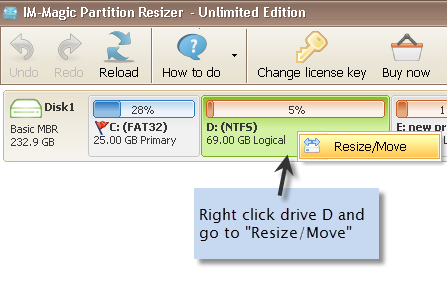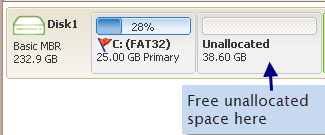 Step2: Right click C drive and go to RESIZE/MOVE PARTITION and then claim the free unallocated space by dragging its border right forward to get the free space covered.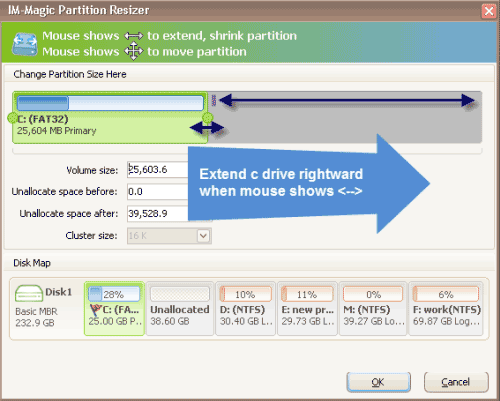 Step3: Click the APPLY CHANGES button in the software and then it usually takes several seconds to get an expanded c drive.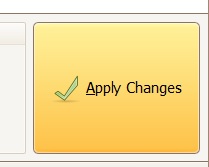 Method#2 Extend c drive from a new added disk with RAID
Note: RAID array shall be deployed on your server machine to get a larger c drive if the old disk is not big enough.
Here are the steps to add space from a new disk to c drive.
Step1: Insert the new disk and initialize it in Partition Resizer Server or you may also initialize it under Disk Management.
Step2: If there are several partitions that stand between the c and the unallocated space, you may right click the in-between partitions one by one and choose RESIZE/MOVE PARTITION and move them right forward when the mouse shows cross arrows. When the unallocated space is at the right side of the c drive, you may right click C drive and go to RESIZE/MOVE PARTITION and then expand its border to cover the unallocated space.
Step3: Click APPLY CHANGES to get every step applied.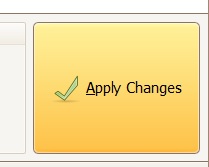 Windows Server 2022 Release Date?
Windows Server 2022 ISO get released for its users on 18 August 2021, though in June 2020, Microsoft released its C updates to test the upcoming fixes for its users. Finally, on 18 August, the Windows server 2022 ISO is readily available for its users.
Windows Server 2022 ISO Features: The Better and Efficient
The latest launch is equipped with many advanced and useful features for its users, including
Azure-ARC is now available with the recent launch
AES-255-GCM and AES-256-CCM cryptographic suits are integrated for server message block
HTTPS and TLS1. 3 are enabled by default
DNS supported
SMB over QUIC for secured communication
Secure Core server and Secure Boot protection features are available now
The. Net application updated
Optional server message block compression updated to speed up the network transfer
Storage mitigation service enables users to migrate files servers from on-premises to Azure
These are the well-built improvements you'll get in the new Windows Server 2022 ISO.
Windows Server 2022 System Requirements
Before going for its installation on your system, let's check the Windows server 2022 requirements parameters and verify them with yours. Here they are:
Processor: 1.4 GHz 64- bit processor that supports NX and DEP, CMPZCHG16b, LAHF/SAHF
RAM: Minimum 512 MB and 2GB of RAM are required to server desktop run
Firmware: Based system UEFI 2.3.1c and.TPM supports secure boot
Hard Disk Space: To use the Server Core installation option, your system needs a minimum of 32GB of free space
Graphics Card: VGS(1024 x 768) or higher resolution
Network Connectivity: The ethernet adapter must run 1GB per second
Windows Server 2022 Price
Check out the price table below:
| | | | | |
| --- | --- | --- | --- | --- |
| Windows Server 2022 Edition | Suitable For | License Model | CAL Requirements | Price |
| Data Center | High integrated database and Cloud Environments | Core-based | Windows Server CAL | $6,155 |
| Standard | Physical or Less Integrated Environments | Core-based | Windows Server CAL | $1,069 |
| Essentials | Small enterprises upto 25 users and 50 devices | Specialty Servers | CAL not required | $501 |
Frequently Asked Questions
How does Windows server 2022 ISO download help small businesses?
 If you're a small business owner, you can avail the following benefits of Windows server 2022 ISO:
You can protect your server against threats with the secured core server while applying for an advanced multi-layer protection.
Manage workloads like SQL Server with 48TB of memory, 64 Sockets, and 2048 logical cores
Improved VM management, increased event viewer, and connected Azure via Azure Arc while using Windows Admin Center.
What does the Windows server home use cost?
You can use the Standard edition at $1,069 for up to 16 cores. Using the server ISO in your business is advisable as it supports medium to large databases.
How do I improve Windows server security?
Follow the below tips to make your Windows Server's security tighter:
Manage server access
Verify Network Configurations
Restricted your Admin access
Verify Remote Access Or SSH configuration
Cross-verify before permission is granted to users
Turn down Attack Surface
Final Words
With its most recent release, Windows Server 2022 ISO, you can encrypt all communication codes between you and your clients. Our article outlines every aspect of the server, including the Windows Server 2022 ISO download methods. Before putting the server into your system, you can verify the cost and system requirements. With Windows Server 2022 ISO, you can now protect your company's data and defend it against unwanted online assaults.
References
Download Windows server to usb: https://learn.microsoft.com/en-us/answers/questions/61553/download-windows-server-essentials-to-usb.html