How to Check Partition to Fix Errors or Bad Sectors
How can you check partitions on a hard disk to see if it contains bad sectors or other errors? When there are bad sectors or any error on a disk partition, it usually means that the drive has some damaged sections which are not available for data storage. If you keep saving data to a partition that has errors or bad sectors, you may lose the data stored on the partition. Then, how can you know whether a partition has any error or bad sector? You can use IM-Magic Partition Resizer to check the partition to scan and fix all errors.
How to Check Partition Errors?
Step1. Right click the partition that you want to check and select "Check Partition" option.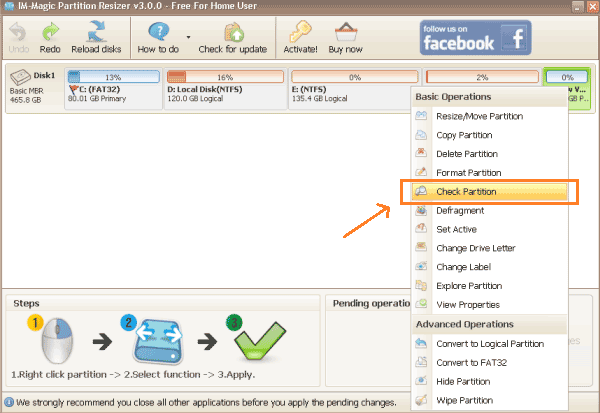 Step2. Select the options to check the selected partition and click "OK" button. You can choose one or two in the following options:
- Fix found error
- Try to fix found bad sectors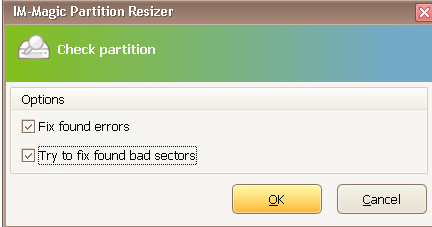 Step3. Wait patiently when it is checking partition for error. Then, you can click "Close" button when security descriptor verification completed.
Download Proper Version of IM-Magic Partition Resizer
For Windows 10/8/7/Vista/XP/2000 ==> Download IM-Magic Partition Resizer Free
For Windows Server All versions ==> Download IM-Magic Partition Resizer Server
More Related Articles You May Like
Copyright © 2017 IM-Magic Inc. All rights reserved. Windows® is trademark of Microsoft Inc., and Partition Magic® is trademark of Symantec Inc registered in the U.S. and other countries . IM-Magic's software is not developed by or affiliated with Microsoft nor Symantec Inc.