IM-Magic Partition Resizer Free, the free fat32 format tool is completely freeware that you may use it to format media fat32 for your flash drive, usb disk, hdd, memory card on Windows 10/8/7 etc.
Where to download the free fat32 format tool?
Here is the download link: Download Free FAT32 Formatter
Tutorial: How to Format Drive/Card from NTFS/EXFAT/RAW to FAT32?
Step1. Right click the media that you want to get it formatted, and select "Convert to FAT32" option.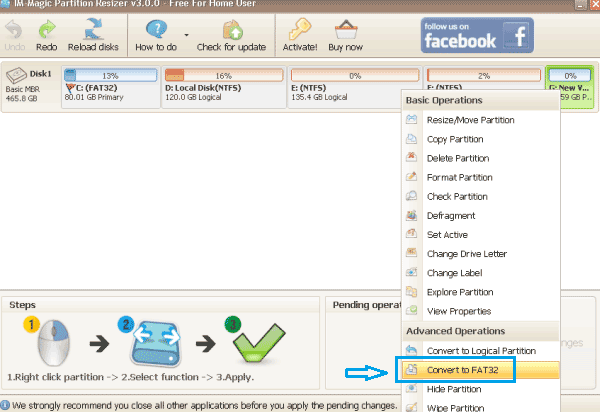 Step2. Click "OK" button to confirm convert the selected partition to FAT32 file system.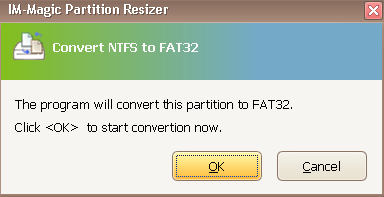 Step3. Click "Apply Changes" button
It does not ask to reboot computer for the formatting that you may use the free fat32 format tool to format drive without restarting computer.
Note: data would be erased during the formatting, so please do backup data before the formatting to somewhere else. However this formatting is not permanently data erasing which means data can still be retrieved with some professional format recovery tools.
Also read: how to permanently erase media without recovery
What is FAT32 file system?
Fat32 is a file system format defined by Windows named as file allocation table32, which is used on 32bit FAT file system. It was used in early days of digital devices less than 32gb for most memory cards, flash drives... And then later there came out NTFS, EXFAT with different advantages.
See more fat32 definition on PCmag.com
Converting fat32 to ntfs? Try this -> Format fat32 to ntfs
Download Proper Version of IM-Magic Partition Resizer
For Windows 10/8/7/Vista/XP/2000 ==> Download IM-Magic Partition Resizer Free
For Windows Server All versions ==> Download IM-Magic Partition Resizer Server
Last updated on June 2, 2021