Summary
Partition magic was old famous disk management tool used on Windows XP and it has been stopped for upgrading ever since 2004. What kind of free partition magic alternative are available for Windows 10?
Table of Contents
Free Partition Magic Alternative – Partition Resizer Free Edition 100% free
As one of the best free partition software for disk repartition, Partition Resizer developed by IM-Magic Inc. has a free edition that works flawless on disk space repartition that can work as Partition Magic free alternative to help manage disk properties like resize, move, format, convert and more… FOR FREE!
As a Windows PC partition manager, IM-Magic Partition Resizer Free edition is 100% free for users on Windows 7/8/10.
Download Partition Magic Alternative Free - Partition Resizer 100% Freeware

Download it for Windows PC 11/10/8/7
Attention:
Note: If you are using Windows Server OS like Windows Server 2016/2012/2008/2003, you need to download the trial of IM-Magic Partition Resizer Server Edition which is a paid program with reliable functions and ensures a 100% safe resizing with this program.
Partition Magic Aternative for Windows Server
Download Partition Magic Alternative for Windows Server 2016/2012/2008/2003

Tips: Partition Resizer works on Windows PC Win11/10/8/7/Vista/XP for free, 32&64 bits compatible.
History of Norton Parition Magic
What OS does Norton Partition Magic Support?
Windows 2000, Windows XP
What's the latest edition of Symantec Partition Magic?
V8.0.5 in the year 2004 and then Symantec announced that it no longer offered Norton Parition Magic since 2011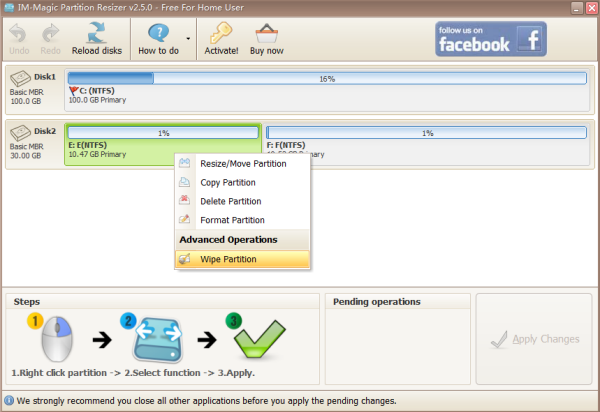 Partition Magic alternative freeware - IM-Magic Partition Resizer
Attention:
This freeware can do almost everything that PartitionMagic does. Plus it is 100% freeware for non commercial license on Windows PC OS.
For Windows Server OS, it has a trial named Partition Resizer Server Edition.
IM-Magic Partition Resizer
Want to learn more how to use this freeware? please go to https://www.resize-c.com/