Summary
Download portable edition of Paragon Partition Manager or partition magic portable free tool? Try free alternative 100% freeware – IM-Magic Partition Resizer Free Edition which can do almost exactly what paragon partition manager does.
Portable Edition – Partition Resizer - 100% free
IM-Magic Partition Resizer Free is a 100% freeware that has a portable version that does not require an installation on your PC so as to use it on a portable usb disk or usb flash drive conveniently on every PC regardless of Windows OS you have for the free edition.
Download Portable Edition of IM-Magic Partition Resizer Free, the freeware portable edition can be downloaded here in the following download button.

The Benefits of Portable Edition
You may download the .zip file onto your hard drive or usb flash drive and then unzip it to the place anywhere you like.
Why IM-Magic Partition Resizer Free is better than Partition Manager/Magic
1, It is 100% free of charge for home users
2, It is 100% safe with roll-back technology to ensure disk safety that you may cancel the disk change even during the process and the disk will roll back to its old status
3, It has free portable full version that users may download it free and use it to manage disk partitions as Disk Management
4, It supports the latest Windows 11/10/8/7/Vista/XP/2000 computers with both 32bit and 64bit independent exe
Screenshot of Partition Resizer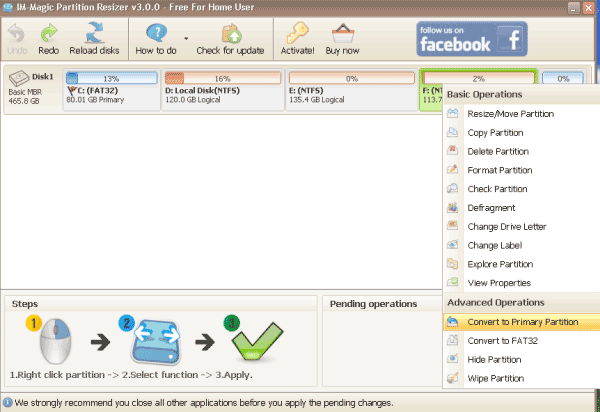 Partition Resizer Free -100% freeware
Paragon Partition Manager Free Portable
According to the description on Paragon Partition Manager official stie, Paragon Partition Manager is free for home users, non commercial purpose and it does provide a WinPE bootable disk edition free for users in its free edition.
However, Paragon Partition Manager Free does not have a portable edition.
Choice -> Use IM-Magic Partition Resizer Free which has a portable edition free for all users.
The download link of the portable free edition is availble on the following download link

Also read: partition magic portable
How to use Partition Resizer, the free disk management tool
Watch more video for the tutorial of IM-Magic Partition Resizer? Go to the following page.