Summary
This article will show you how to resize partition on Windows server 2019 safely and easily, and we will analyse the limitations of every solutions, you can choose a suitable one.
Table of Contents
Why Is Partition Resize Is Needed?
Partition resizing means to change the allocated size of an existing disk partition of the windows server 2019. Most of the time you need to resize disk drive because of slow processing speed or low disk space warning. We all face this situation right? There are 2 possible solutions to this problem. Use the built-in tool to resize disk drive directly or waste a considerable time to back up and start over. Both of these two options have their limitations. For an enormous time, we can check out the back & start over option.
C drive is the most important drive for your server where the operating system is stored as well as with other software. We also store important files at C drive. Sometime you will find the C drive is almost full and the process is running slower and slower. Most of the time it happens for low disk space which can cause much inconvenience to your work. The only possible solution is the Resize partition windows server 2019 & to do so you need to shrink the partition with another one or extend it. Sometimes it becomes a headache, and we have brought the solution for you.
Limitations of Windows Build-In Extend Volume Option:
Although Windows server 2019 has its disk management option where you will find both shrink volume and extend volume functionality, it only works when certain conditions are fulfilled. The possibility of extending a volume by shrinking other is not there, so this tool is useless in most of the case.
The adjacent unallocated space should be at the right side of the partition & only the than the built-in Extend Volume functionality will work. You won't even get the option to do that if the unallocated space is on the left side of the disk partition.
Another massive disadvantage of the Windows built-in extends volume it only works for the NTFS file format. If you are using FAT32 or another file format, you won't be able to extend volume even if you have unallocated disk space at the right side.
Data Loss Risk while Resizing Partition:
There are many factors associated with the Resize partition windows server 2019, and these can quickly increase the difficulty. Files can be different by types and extensions so it can be a hazardous task. Also, the large disk space and RAM can be a difficult task for partition software. You can get a variety of error message for a variety of reasons, such as,
Error messages, such as something missing or damaged for some system related parameters failed to update
Missing or corrupted drives from file explorer for partition pertaining parameters was unable to update
Files are damaged or lost because files parameters failed to modified.
This is why people fear disk partition software for its potential data destructive nature. Most of the time it removes data from your system, and the result can be catastrophic. So it's important for your server to choose a reliable tool to resize the partition on Windows Server 2019. Yes, backup software is there but the time needed to restore is massive. To ease all your tension and save valuable time, we recommend you to use IM-Magic-Partition Resizer. IM-Magic-Partition Resizer will keep the system and data intact. It will also automatically recover the original status for any software or hardware issue.
Resize Partition on Windows Server 2019 with Partition Resize Tool
There are several partitions resize freeware, but all have their issues. IM-Magic-Partition resizer server is safe from any of those issues. To use the Partition resize software, you need to download it and follow the steps: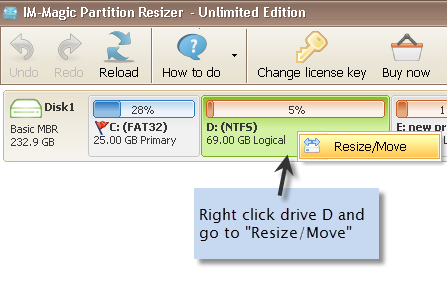 Resize partition windows server 2019 with partition resize tool
Run the IM-Magic-Partition Resizer server & find the list of disk partitions
[Guide] Steps to extend volume without data loss

This step by step guide will show you the right way to extend any volume using  IM-Magic Partition Resizer Unlimited edition.
Step-1  Download install, and launch the program.
Step-2 Right click the large volume to produce unallocated free space.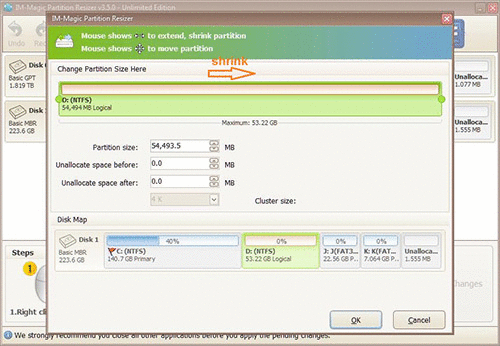 Steps to resize your disk partition
Step-3  Then right click c and drag the border to acquire the free space.

Steps to resize your disk partition
Step-4 Apply the changes.
There are other useful features of the IM-Magic-Partition Resizer server including resizing partition, wiping partition, copying partition, converting disk type. It works on all windows servers such as 2000/2003/2008/2012/2016/2019/2022 including 32 & 64bits SBS etc. No downtime While you Resize partition windows server 2019. It's worth a try.