Summary
If you want to resize your partition free, the best choice for you is to use a partition manage software to help you. Here I will compare the most popular partition management tools for you, and recommend the best for you.
Table of Contents
Top 5 Best Partition Software for Windows 10
There are times when we realize that the hard disk storage has got a lot of clusters that are occupying much-needed space on the computer. The best option is to partition in order to make full use of the storage space on our device. Windows provides us with two options with which this can be done. But these options does not give 100% result on our drive especially when it comes to data protection.
There are a number of free partition software out there that help in resizing your drive for more space. And they come free. And here we would recommend the best 5 disk partition software for you.
Free #1 IM-Magic Partition Resizer Free
Partition Resizer Free is a easy to use and cute partition software that comes as freeware for home users to manage disk partitions when you want to make changes on your disk volumes.
See how it looks like in the interface.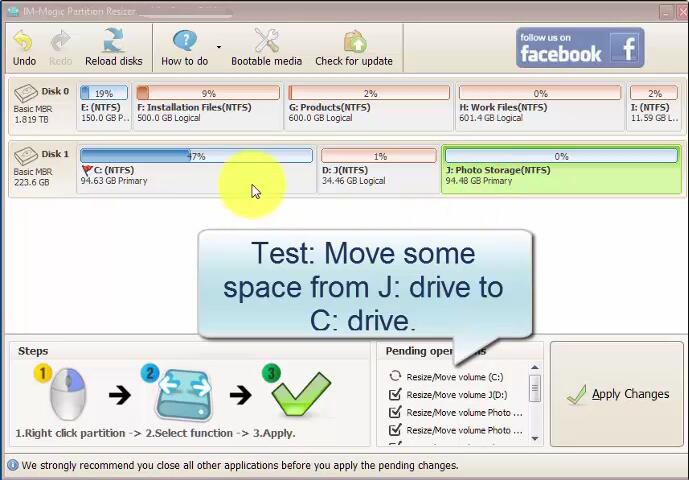 Partition Resizer Free as best free partition software
Freeware download page: https://www.resize-c.com/
Video - How to Resize D and Expand C Partition with Freeware Partition Resizer
More video about using this freeware can be found here https://www.resize-c.com/video/
Free #2 Easeus Partition Master Free
As another excellent partition program, Easeus Partition Master has paid editions also with free editions. Partition Master Free provides shrinking, extending, moving partitions together with disk copy, change disk file system etc.
As an excellent freeware, it provides many functions that you could manage your disk partitions without disk management.
#3 MiniTool Partition Wizard: The is one of the most reliable partition resizer on the market, you can easily resize partition without booting, there is support for the common partition options and it queues all your changes. However, it doesn't you cannot perform dynamic disc management and you will need to purchase the pro version to unlock some of it best features.
#4 Aomei Partition Assistant SE:The Aomei Partition Assistant has both the free and paid version. While it free version might be enough for some basic users, features like dynamic disk management are only available on the paid version. This is a great partition resizer, although sometimes it hides it main program and it language can be confusing.
#5 Active Partition Manager: Active Partition Manager is one of the simplest partitions to use with the basic partition made available. This partition manager allows you to use your backups to restore change. The downside to this manager is that you can't make changes to the locked system drive and any attempt to do so will cause a crash and it does not allow for duplicate partitions.
Best Free Partition Resize Application.
IM-Magic Partition Resizer is a product of disk partitioning tool. It allows you to expand your partition without any loss of data. Built for winders, this software comes free and user-friendly. Not to mention, it is one hundred percent guaranteed to be effective. From its website, www.resize-c.com, you have the opportunity to download its free 'Freeware for Windows PC (from Windows 2000 to the current Windows 10)'; or its trial version for Windows Server (every version of Windows Server) at no extra cost.

There are a number of reasons for getting this software which includes:
Features of IM-Magic Partition Resize Application
1. It helps to expand or shrink your drive (C drive): Now, it is possible to reduce or expand the size of your disc volume without losing the information in it at speeds that you can't find on other third party partition software.
2. Guaranteed 100% Safety: It will never tamper with your information on the disc. With its Rollback Tech, you can be rest assured that your data is safe even with an unexpected power failure while the partitioning is ongoing. You can also use it to arrange your clusters in order to get more storage from your disc. Thereby eliminating clusters in your storage.
3. In addition, it will not tamper with your Operating System even with a sudden system shutdown due to power failure.
4. It is very easy to use. With a simple click of your mouse, you can manipulate any disc that you wish to. You don't have to be a tech nerd to use this app, because of it built in interface.
5. It also shows you a preview of your intended action before your final click of the button. Through this, you can choose to continue your action or stop.
6. The software also gives you the opportunity to see the property features of the disc that you choose. Its object name, GUID, disc size, cluster size, hidden sectors and a host of other features are available.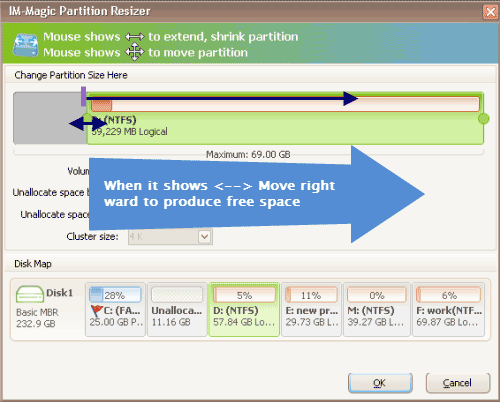 Best free partition software to resize partition on Windows
Third party applications give you 100% results in disc defragment. And with IM-Magic, you can never be left out in performance and ease of use.