Summary
Partitioning your disk has many advantages to it. Out of the many it holds for your PC and Disk is that it makes them run faster and smoother while upping the performance of your system. You should not wait till your PC crashes and you lose data to appreciate the need to partition and resize your disk fully.
Table of Contents
Why You Need to Partition Your Disk
Partitioning helps you to divide your disk into smaller segments that you can store your data on without cramming your data into a single space. When you partition your hard drive into different segments on your hard drive, you have more organisation in the way you store data on your hard drive. Organization is key in storing data on your PC. Among many things, organisation allows you to reach any data required at a given time with ease. You cannot beat what organisation does to the way you interact with your PC.
Another reason to resize partition is that it helps prevents against the loss of data in that case that your PC crashes. Sometimes, we do not have control over what happens to our PC. Moreover, a crash could be any user's worst nightmare, especially if it sweeps all data along in its wake. When you partition your disk into multiple drives, it allows you to keep your data as files in your libraries which include your documents, music, videos, and pictures.
You also need to partition your disk to help the performance of your PC. When your data is separated into smaller chunks on different segmented drives, your computer's performance is significantly improved. This is so as your computer does not always have to have to read through a large chunk of files to fulfil every task. That means a faster Operating System.
How to Resize Partition without Software
You can extend or decrease the size of the partition of your partition without software. You can do that with your inbuilt system tool called Disk Management tool. With Disk Management tool, you can resize your partition however you want, though it comes with great difficulty. Also, in some cases, you may lose your data in the process if great care is not taken. To resize, select the drive you want to carry out the resize task on, then right-click and choose the way you want to resize the disk. It is that straightforward. However, it is advised you use the best server partition software.
Using IM-Magic Partition Resizer Server
Windows server partition management softwares help to maximize storage space usage and keep server working at the optimum performance. There are a couple of Partition resizer softwares which share very common functions. These softwares include:
- IM-Magic Partition Resizer
- Easeus Server Partition Manager
- Minitool Partition Wizard
The IM-Magic Partition Resizer Server is a professional partition management solution for Windows server that makes server run with high proficiency. Although in a class of its own, the software IM-Magic Partition Resizer Server is a server partition software that is a better option than its competition because:
- IM-Magic Partition Resizer Server resizes your disk in a speed of light or at sonic pace, that is, it is very fast. Other Partition software can't beat the speed.
- The IM-Magic Partition Resizer Server is very safe to use. It helps protect your information and ensures that none of your files are binned in the process.
- IM-Magic Partition Resizer Server is easy to use.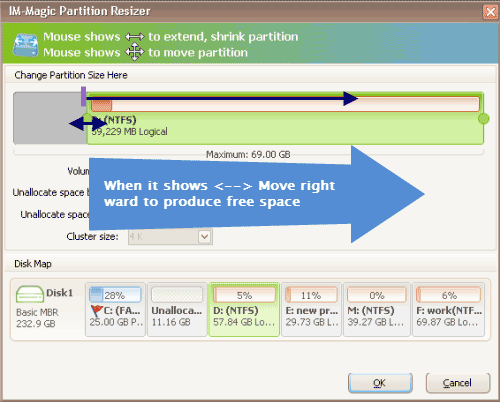 Best partition software to resize partition on Windows
[Guide] Steps to extend volume without data loss

This step by step guide will show you the right way to extend any volume using  IM-Magic Partition Resizer Unlimited edition.
Step-1  Download install, and launch the program.
Step-2 Right click the large volume to produce unallocated free space.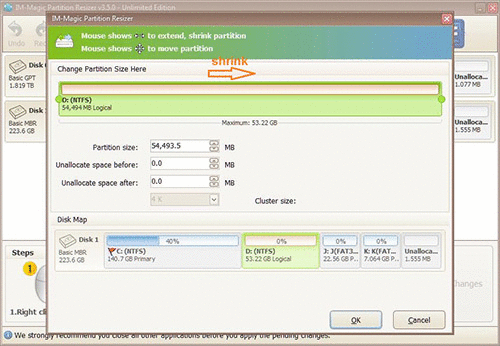 Steps to resize your disk partition
Step-3  Then right click c and drag the border to acquire the free space.

Steps to resize your disk partition
Step-4 Apply the changes.

To use IM Magic Partition Resizer Server, first, run the software. Running it will bring up a list of your different partitions for you to choose from. Right click on your chose and then resize. IM-Magic Partition Resizer Server is the best server partition software for windows. You can resize any drive on your partition to suit your need without having to format the drive. What's more? IM-Magic Partition Resizer server works on all WINDOWS server OS including 2003/2008/2012/2016/2019/2022 R2 SBS.