Are you looking for a method to delete all partitions on a hard disk of your computer? Probably, you want to delete all partitions in order to redistribute disk space. Or you want to delete all partitions to erase all data. Windows system allows you to delete partition under Disk Management, but it is waste of time to delete each partition one by one with Windows Disk Management. This page will share IM-Magic Partition Resizer, with which you are able to delete all partitions together on the same hard disk.
How to Delete All Partitions?
Step1. Right click the disk (.e.g. disk 0) rather than any partition and select "Delete All Partitions".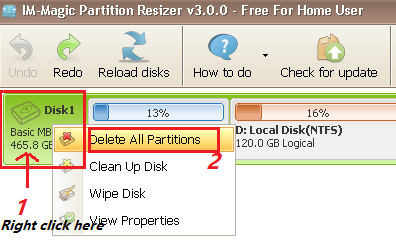 Step2. Click "Yes" to confirm delete the selected disk.

Step3. Click "Apply Changes" button
Tip:
1. Delete system / boot partition can make your computer become unbootable
2. The selected disk will show as unallocated and all data stored on this disk will be erased with delete, so you had better backup data in advance.
Download Proper Version of IM-Magic Partition Resizer
For Windows 11/10/8/7/Vista/XP/2000 ==> Download IM-Magic Partition Resizer Free
For Windows Server All versions ==> Download IM-Magic Partition Resizer Server