Summary
This article is about how to merge two drives in Windows 10 without losing data, you can use this useful way to extend your system drive, and better manage your disk partitions.
Free Ways to Combine Two Drives in Windows 10 without Losing Data
Before any merging or deleting, please backup data on the partitions to somewhere else. Partition Resizer is a free tool that can help clone disks or copy partitions for free.
Question1: How do I merge two hard drives in Windows 11/10/8/7 from different disks?
Answer: RAID arrays can help merge two physical hdds or ssds on a computer when you removed all previous data and partitions.
Video - how to build RAID for your hard disks.
Also read: how to merge non adjacent volumes
Question#2 - How to merge two partitions without losing data on Windows 10/11?
Answer: Free tool Partition Resizer can help merge two adjacent volumes on the same disk without losing data. (If the volumes are not adjacent, you need to delete the in-between volumes at first.)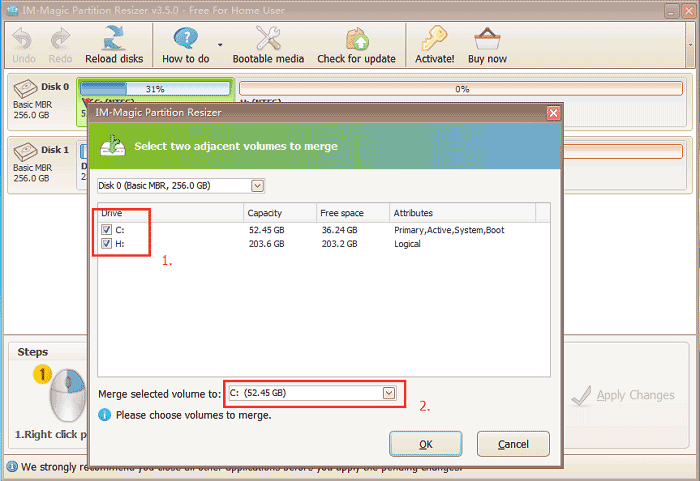 If you have unallocated partition on your computer, merging two drives is a good way to extend partition. It will make your disk run smoothly, and spare you more free space to save data.
To avoid running out of system drive space, extending system partition is necessary, it is more convenient to merge two drives to get more space for system drive.
How to Merge Two Local Disks in Windows 10/11 Using Disk Management
Some people will choose Disk Management function to extend or shrink partition, for Windows 10 users, they will need to extend drive to make it, it is not that easy to use, and it doesn't have merge function, you can extend volume if there is some contiguous unallocated space. This is also a good way to extend volume in Windows 10 for free.
Step 1: Enter Disk Management, choose the local drive you want to extend, right click it and choose to "Extend Volume".
Step 2: It will pops out a window and asks you to choose a unallocated space, you can merge these two drives.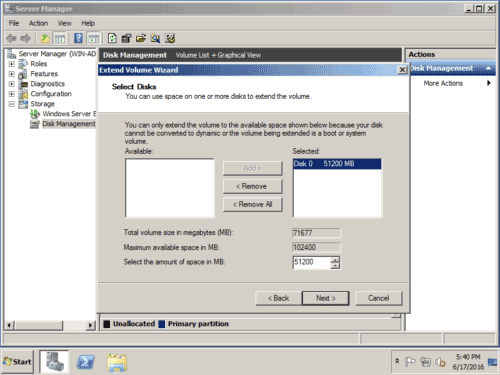 Merge partitions with disk management tool
How to Merge Two Local Disks without Data Loss with 3rd Party Free Tool
There is a freeware which can help you to manage the disk partition without data loss and it is both free and safe, IM-Magic Partition Resizer free, you can totally trust it. IM-Magic Partition Resizer has a powerful ability to manage partitions and it is 100% safe for your data.
Free to Merge Partitions with IM-Magic Partition Resizer

Step1: Install IM-Magic Partition Resizer free on your computer, run the program, you will see all the partitions of your disk listed.
Step2: Choose the partition 1 you want to merge, right click it and choose "merge partition" option,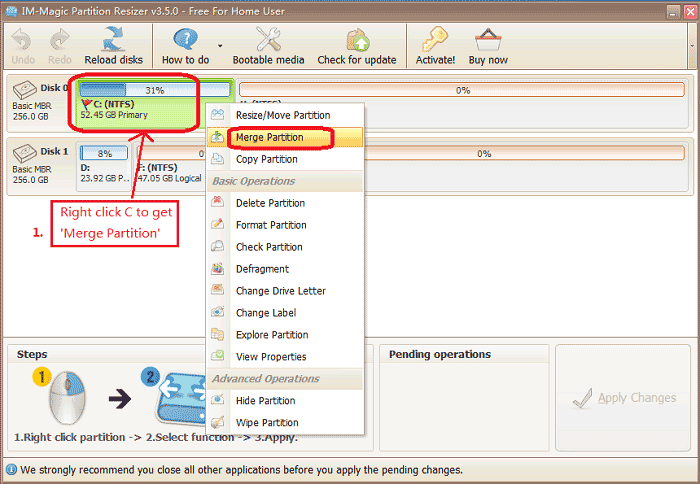 It pops up a window, you can choose the partition 2 which you want to merge with partition 1.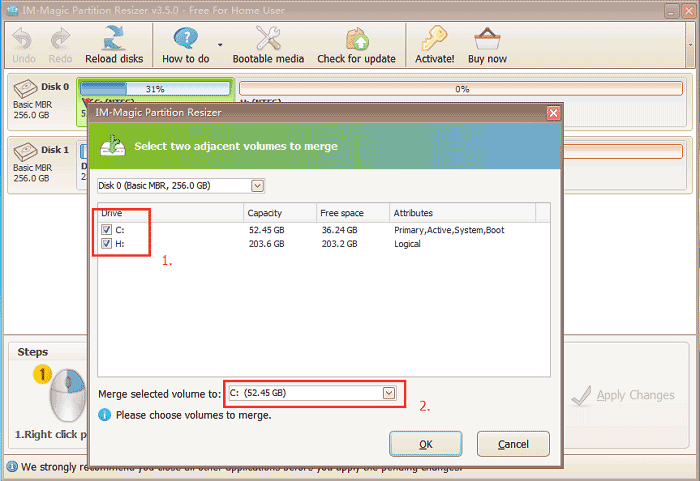 Merge two local drives in Windows 10 with freeware
Step3: Confirm the operation and apply the changes.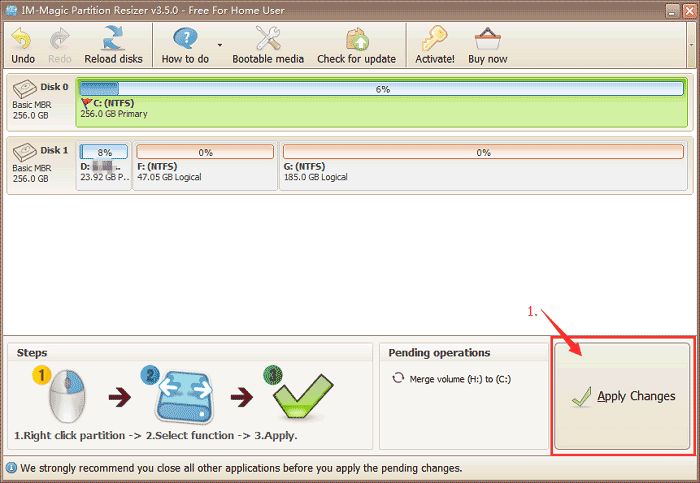 Then you can merge two local drives without data loss.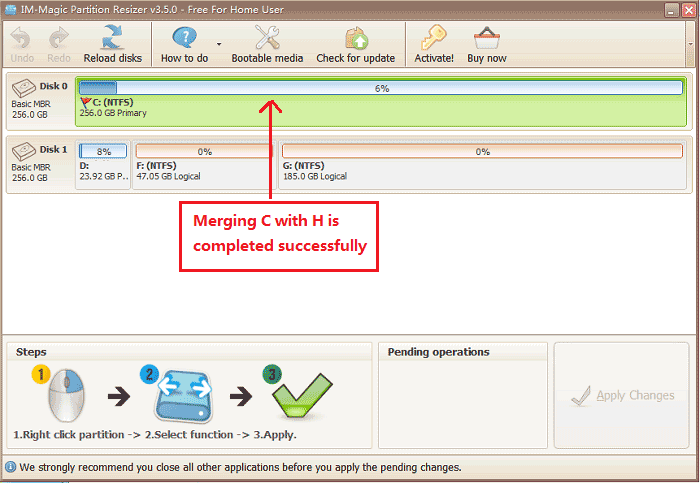 Also read: how to merge two partitions