Your computer will contain junk files when you perform some task on it. For example, when you search Internet on Windows 10, 8, 7, it will create Internet temporary files. When you download and install programs on PC, it will also create temporary files. Along with more and more task you perform on your computer and more and more data has been written to each partition, your computer will be full of junk files like temporary files, downloaded program files, Windows registry entries, setup log files, etc. Too many junk files on your computer will affect the performance of Windows 7, 8, 10 OS, in which situation your PC will run more and more slowly and even run into unexpected system crash problem.
This page will introduce all methods to delete junk files thoroughly on Windows 7, 8, 10 computer so as to free up disk space and improve the performance on your computer.
Solutions for Junk Files Deleting to Free up Disk Space on Windows 7 8 10
All junk files may occupy lots of space on disk partition of your computer if you have never deleting any junk file. Here are some methods to delete or remove junk files from Windows 7, 8, 10 OS thoroughly so that you can free up disk space for a better performance:
1. Delete junk files manually
You can delete all junk files manually, but you should be careful when you are trying to deleting any junk file from any partition of your computer. Usually, you need to open each partition and check carefully whether the files you want to delete are junk files. After deleting the selected junk files, you had better open recycle bin to delete them thoroughly there.
2. Uninstall junk programs
Sometimes, when you download and install a program on your computer, some junk programs will be bound with it to be installed on your computer. You can uninstall those unnecessary junk programs, which will save much free space on the disk partition.
3. Clear your recent history or remove individual cookies
When you open a link online, it will produce recent history and cookies, you can clear the recently history and remove individual cookies to remove temporary Internet files. To clear recent history or remove cookies, you can follow the guide: open the Brower you use (take Firefox for example) > click Tools > Options > Privacy > click clear your recent history and remove individual cookies
4. Use Disk Cleanup
You can run Disk Cleanup on Windows 10, 8, 7 to delete some unnecessary files such as temporary Internet files, downloaded program files, Recycle Bin, Offline Webpages, old Windows folder, temporary files, old Chkdsk files, WebClient /Publisher temporary files, setup log files, etc. Usually, it can free up some disk space on your computer after performing disk cleanup.
Expand Partition When Clean up Junk Files Cannot Free up Space on Windows 7 8 10
The reason why you delete junk files on Windows 7, 8, 10 is to free up disk space. You want to free up disk space on your computer because there is not enough free space on the partition? If so, sometimes you may find it is useless after deleting junk files because the partition still has little free space. In this situation, you can expand partition rather than deleting any file.
1. You can run Disk Management on Windows 10, 8, 7 to extend the partition that has low disk space.
2. You can run Diskpart to extend NTFS data partition with contiguous unallocated space
3. You can use partition software for Windows 7 8 10 for partition resizing. IM-Magic Partition Resizer Free is a free partition magic tool that enables you to extend system partition or data partition to resolve low disk space problem.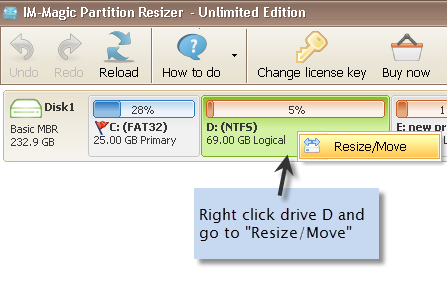 Download IM-Magic Partition Resizer Free Edition