How to free up disk space on Windows 10 when PC reports low disk space warning on any of partitions? You will store different kinds of files on each partition after installing a hard disk on your computer. And one day, your PC might work slowly when each partition (especially system partition) is full of files with no more free space. In this situation, you may try every effort to free up disk space so as in order to protect your computer from facing any inconvenience due to low disk space problem.
Common situations that you want to free up disk space for Windows 10:
Windows 10 reports low disk space on C drive when you boot your computer
There is not enough free space for Windows 10 upgrading from Windows 8.1
Windows 10 runs more and more slowly since system partition contains too many unnecessary files
This article will share all possible free solutions for Windows 10 disk space reallocating when you have insufficient free space on any partition on your computer.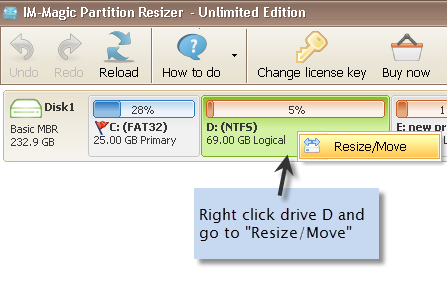 1st Method: Delete Unnecessary Files Windows 10 Disk Space Free up
If there is not enough free space on Windows 10 partition, the first thing you can do is to delete all unnecessary files on the partition.
1. You can delete unnecessary files on the partition that has no enough free space. When you decide to delete all unnecessary files, you had better set to show all hidden files on your hard drive so that you can see all files.
2. You can delete duplicate files to free up disk space on hard drive. Many people like to make a copy of important files on the same hard drive. When there is not enough free space, you can delete the duplicate files or move them to an external hard drive. If you are not sure how many duplicate files have been stored on your hard drive, you can find a free duplicate-file-finder application to explore all duplicate files by scanning the hard drive.
3. You can empty recycle bin to free up disk space. When you delete data on a partition, it will be moved to recycle bin at first. The deleted data still occupies the disk space before deleting it permanently from recycle bin. Therefore, you should always empty the recycle bin on your computer after deleting files from Windows 10 partition in order to free up disk space.
4. You can delete all Internet cookies and temporary files to free up disk space on your computer.
2nd Method: Uninstall Old & Unneeded Programs
You can uninstall all old and unnecessary programs from your computer. Some programs usually occupy lots of disk space, so it is necessary to uninstall all unneeded programs if you want to free up disk space. For example, you probably have installed many game applications on your computer, but you have never uninstalled any application even you no longer use them. Usually, you had better uninstall all unneeded programs in order to avoid waste of disk space in storing unnecessary data.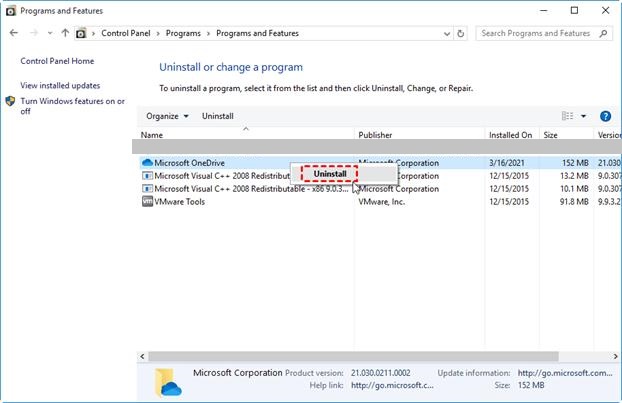 Pay attention:
1. When you want to uninstall an program from your computer, you need to remove it from "Add or Remove Programs" instead of simply deleting it. If you just delete it from desktop, it does not really uninstall the programs because the installer is still on the hard drive.
2. You had better not install programs on system partition because too many programs on system partition usually affect the performance of your computer.
3rd Method: Run Windows 10 Disk Cleanup Tool
Disk cleanup tool on Windows 10 allows you to free up disk space on hard drive. You just need to right click the partition you want to free up and then click "Properties" = click "Disk Cleanup" button and it will calculate how much space you will be able to free up =>> you can select all files you want to delete including temporary files, setup log files, downloaded program files, etc and click "OK" button. You can also clean up system files by clicking the "Clean up system files" button.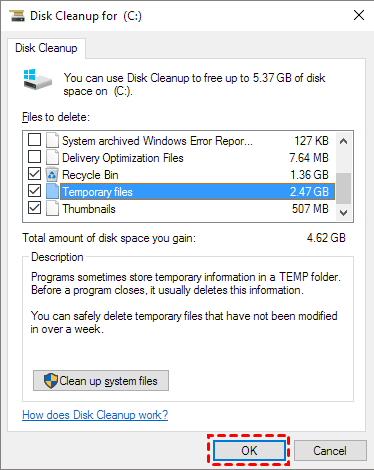 4th Method: Windows 10 Partition Software to Expand Partition Space
Sometimes, it might fail to resolve the problems on Windows 10 with the OS built-in utilities. In this situation, you can run Partition Resizer to clean up disk or reallocate disk space without losing data.
With the free partition software, you can resize hard disk to redistribute disk space: move free space from another partition to the partition that runs low disk space.
Function#1 Clean up disk space using Partition Resizer
If you right click the disk, Partition Resizer will show up operations 'Clean Up Disk' as a choice to run disk cleaning up.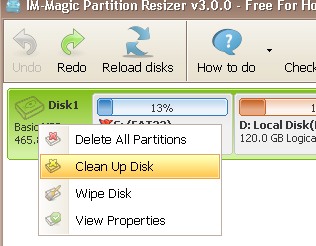 Function#2 Expand partition size in Windows 10 (Add 50+GB disk space if available)
This following video shows how to shrink a large volume with Partition Resizer and then add the free space to expand another volume without losing data. (Disk Management cannot do this job)
Unallocated space not adjacent to the drive? Move the inbetween drives one by one in Partition Resizer.
Video - how to move partitions safely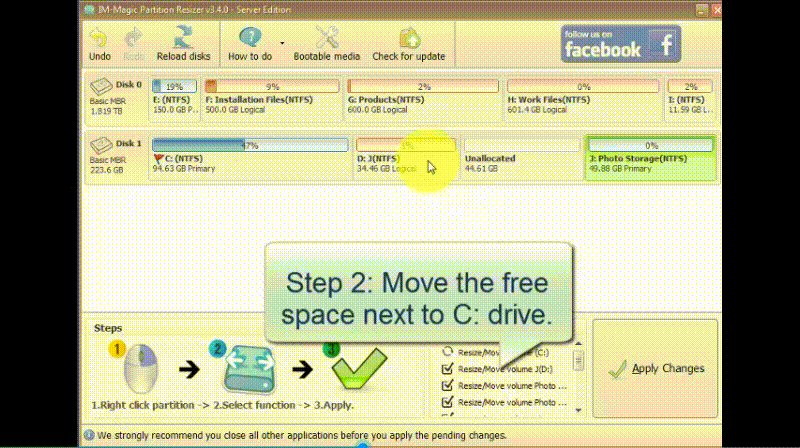 Also read: how to shrink and move partitions
Download IM-Magic Partition Resizer Free Edition


Pay attention:
Windows 10 Disk Management works similarly to partition software to help resize hard disk by deleting its close right side volume while Partition Resizer can safely add free space from one partition to another without losing data.
Also read: how to free up disk space windows 11