Are you wondering if there is any method to extend system partition C drive on Windows 7? C drive gets full soon due to Windows update, cookies and caches, etc, so it is a common problem that you need to search for a useful way to increase the size of system partition when Windows 7 reports low disk space on C drive If you still have not gotten a proper solution, this page will guide you to extend C drive system partition on Windows 7 with different methods.
Part1: Windows 7 Disk Management to Extend System Partition (with limitations)
Windows 7 Disk Management enables you to extend system partition, but it has some limitations. The most important point for partition increasing with Disk Management is contiguous unallocated space. Therefore, you had better open Disk Management on Windows 7 to check if there is contiguous unallocated space behind the system partition.
Expand system partition with contiguous unallocated space on Windows 7
It is easy to extend system partition under Disk Management if the unallocated space is right behind C drive. You just need to follow the steps below to extend system partition with existing contiguous unallocated space on Windows 7:
No contiguous unallocated space next to c drive? Try free tool Partition Resizer that can easily shrink a volume and move unallocated space to c drive and expand c drive free (will be illustrated in part2).
When there is contiguous unallocated space next to c drive, you may use Disk Management to do the job.
Step1. Right click C drive after opening Disk Management on Windows 7 and then select "Extend Volume" option.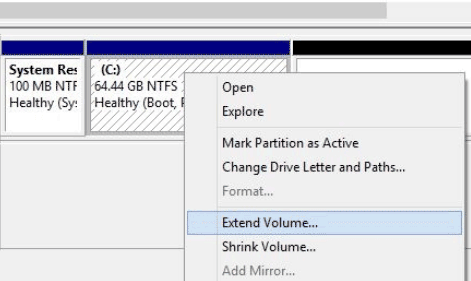 Step2. You just need to click "Next" button on "Extend Volume Wizard" window.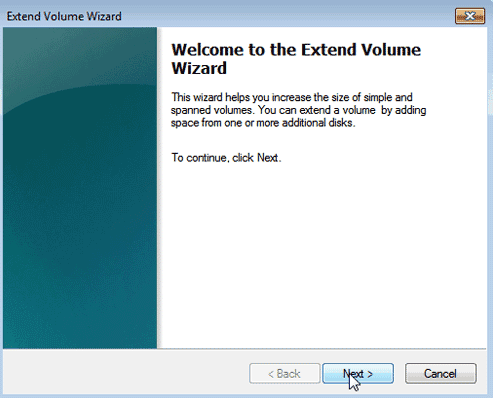 Step3. Enter the amount space you want to add to the C drive can click "Next" button.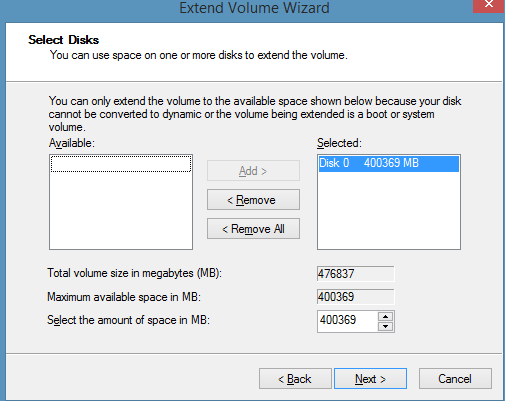 Step4. Click "Finish" button when it has successfully added the unallocated space to the C drive on Windows 7.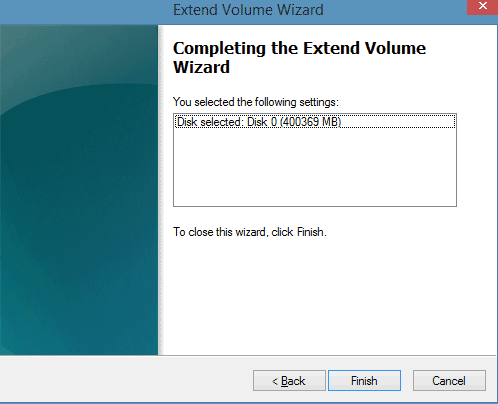 Disk Management extend volume may not work if:
The c drive is fat32 file system
There is no contiguous unallocated space on the right side of c drive
The unallocated space is from a logical drive while the c drive is primary drive
The c drive disk has max size of 2TB in MBR that cannot claim more space even if the disk has 4TB disk for instance.
Tips:
1. Although you can get unallocated space by shrinking partition in Disk Management on Windows 7, it is recommended to delete the partition behind C drive because adjacent unallocated space is needed in order to extend C partition. When you shrink a partition under Disk Management, the unallocated you get is not contiguous to C drive.
2. Since deletion will erase all data on the partition, you had better move all important data to another place before deleting the partition.
3. You can only create unallocated space on the same hard disk. If there is more than one hard drive installed on your computer, you cannot squeeze unallocated space from one hard drive to extend another hard drive.
Part2: Increase Size of System Partition on Windows 7 with Free Software
You fail to increase size of system partition by using Disk Management in Windows 7 since the extend volume is grayed out? It does not matter why you fail to extend C drive with Windows 7 built-in partition manager, you can rely on IM-Magic Partition Resizer Free to move free space from other partitions to the C drive.
Video - how to redistribute disk space from another partition to c drive in Windows 7
IM-Magic Partition enables you to shrink any partition to squeeze some unallocated space and then allows you to move the unallocated space close to the system partition. Finally, this partition software enables you to add the unallocated space to C drive without touching any data stored on the partition.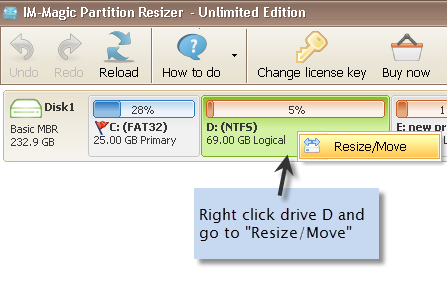 Attention: You can shrink more than one partition to get enough free space, but you are only allowed to move free space on the same hard drive to increase size of C drive on Windows 7.
Download IM-Magic Partition Resizer Free Edition