Windows 8 disk space shows full without allowing you to saving more data or installing Windows updates? You may receive low disk space warning message if a C drive system partition disk space is full, but you may not receive any alert message if it is a data partition is nearly full. Why? Windows 8 alert you when a system partition is full and runs out of disk space to prevent further trouble or problems caused by low disk space issue. It only shows red bar when a data partition is nearly full or Windows 8 tells you that there is not enough free space on the data partition when you attempt to store files to it, because it usually does not have influence on performance of your computer if it is a data partition runs on low disk space.
What to Do When C Drive Is Full on Windows 8?
When C drive is full, you had better check what kinds of files have been stored on C drive. If you have install too many programs on C drive or saved many personal documents on this partition, you had better uninstall all programs and move all personal documents to another partition. You can install programs on other partitions instead of C drive. Usually, you had better only install Windows 8 operating system and system related data on C drive to ensure that there is enough free space on this partition.
If C drive is full and shows low disk space warning message on Windows 8 even if you have not installed any program or saved any other data except operating system on this partition, you can do following things to fix the low disk space problem:
1. You can run disk cleanup tool to free up disk space on C drive.
2. Show all hidden files on C drive to see if there is too many hidden files being stored on C drive and delete those unimportant hidden files to free up space.
3. You can also redistribute disk space on Windows 8 so as to reallocate more space to C drive. In fact, this is the most effective way to fix the problem when C drive is full and even affect the performance of Windows 8 on your computer. If you want to redistribute disk space on Windows 8, you can rely on Windows 8 Disk Management to resize hard drive without repartitioning or reinstalling system.
Windows 8 Data Partition Gets Full
Things become much easier if it is a data partition gets full on Windows 8. You just need to move delete all unwanted files from the partition which is nearly full. You should remember to empty the recycle bin after deleting files from partition if you want to free up disk space. If all data stored on the data partition is important to you, you can also free up space on this partition by moving some data to another partition that has enough free space. Or you can even move some or all data to an external device like external hard drive to free up space on the partition which gets full on Windows 8.
Free to Resolve Windows 8 Disk Space Full Problem
IM-Magic Partition Resizer Free is partition software which is available for Windows 8, so you can use it to resolve the problem when Windows 8 disk space is full. Simply say, this partition software allows you to move free space from another partition on the same hard drive to the partition that is full on Windows 8 so that you can increase size of this partition.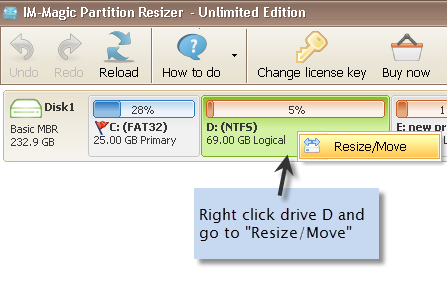 Download IM-Magic Partition Resizer Free Edition