Summary
If you are using the Windows Server SBS 2011, you may have been receiving warning messages about the low disk space. Wonder where all your disk space has gone?
Introduction
The Windows Server SBS 2011 came with a lot of new updates and features as compared to the previous versions i.e. SBS 2000, 2003, and 2008. It introduced a lot of system utilities, features, and thus making more use of hard disk space. The SBS 2011, no doubt, accommodates a lot of c-drive and keeps on filling a lot of GBs time by time. Many people reported the issue for disk running out of space on the Windows server sbs 2011.
Low Disk Space Window Server SBS 2011
As low disk space can slow down your computer and accumulate it with viruses, it is important to solve this issue as soon as possible. Well, the following files may be responsible for using a lot of disk space on your computer.
• Memory swap file (c:\pagefile.sys)
• Windows Error Reporting (C:\programdata\microsoft\windows\wer\reportqueue)
• SharePoint Databases (C:\Windows\SYSMSI\SSEE\MSSQL.2005)
• Old Log Files (C:\Program Files\Windows Small Business Server\Logs\)
• Windows Server Update Services (C:\WSUS)
Solved: Low Disk Space Issue on SBS 2011
The Windows Server SBS 2011 was specially made for official use, it comes with a lot of system utilities to help you organize, manage, and move your data.
WSUS Cleanup Wizard
The Windows Server Update Services grows its files and contents time-by-time. To reduce or free up the WSUS space, you can simply run the WSUS cleanup wizard. For this, follow the steps below
• Click Start and search for Windows Server Update Services
• Open the WSUS Administration Console
• Select Options and Go to Server Cleanup Wizard
• Follow the instructions and Click Finish to complete the process.
SBS Data Moving Wizards
This system utility allows you to move certain files and folders to other partitions. You can access this utility from the SBS console. Open the SBS console and then select the Backup and Server Storage. Go to the Server Storage and you'll see the wizards on the screen. It is recommended to make backup prior to moving your files.
Use IM-Magic Server: Third-party Partition Management Software
Don't want to get into such hassle? Looking forward to an easy method to solve low disk space issue on the Windows Server SBS 2011? You can try IM-Magic Server Edition to extend which is one of the best partition resizers on the market.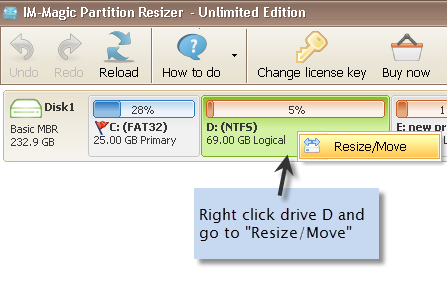 Use IM-Magic Partition Resizer server to extend C drive
The IM-Magic Server Edition will allow you to extend your disk space using the unallocated space available on your hard disk. You can undertake all these actions without any kind of data loss.
[Guide] Steps to extend volume without data loss

This step by step guide will show you the right way to extend any volume using  IM-Magic Partition Resizer Unlimited edition.
Step-1  Download install, and launch the program.
Step-2 Right click the large volume to produce unallocated free space.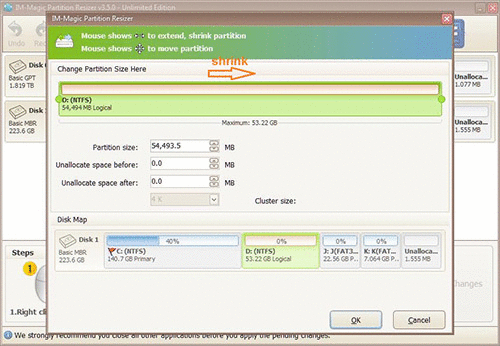 Steps to resize your disk partition
Step-3  Then right click c and drag the border to acquire the free space.

Steps to resize your disk partition
Step-4 Apply the changes.
However, if the problem resists and you are not able to free up your disk space on SBS 2011. It means, you have outgrown your hard disk space and it's time to add or replace your hard disk with a bigger one.