Summary
If you have trouble with disk space usage problem on Windows server system like server 2012, you can find best solutions here to check your disk space usage and better manage your disk space.
How to check Windows server 2012 Disk Space Usage
To check the windows server 2012 the usage of disk space, there are actually some of the technical ways you will be able to find out where did all that space go? The windows server disk space is very important, and it must have some GBs in stocks to help the whole processes of the computer run smooth as a pie. But sometimes when the space run over the computer processes get disrupted, and everything gets messed up, the computer slows down, or in the worst case scenario, your precious data go lost. To prevent all of that you can do some of the things that will let you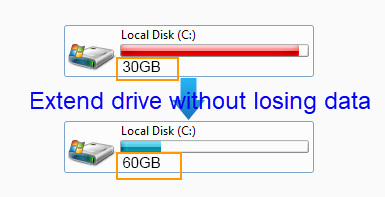 How to extend c drive on Windows
The technical process to check Windows server 2012 Disk Space Usage
Well, ladies and gentlemen, here I hope that you have some of the knowledge regarding the Remote Desktop Protocol and you have also set your login as one of the member of the Administrators group on the specified windows 2012 server. So, what are you going to do once you have understood the basic terms, yes, it is time to move on and let you guide with all the steps. First of all do the RDP into the specified server using all of the proper credentials, which I hope you remember. Then there you will find an icon that will say something regarding the disk space, and then there you will check the current disk usage and the free space (if there is left any) and let me remind you all of this will be initiated from the Explorer. Don't know what I am talking about? Well, I have an easy option for you.
The ultimate solution to Better Manage Disk Space Usage
This is the most straightforward, smart and manageable process through which you will be able to check the windows server 2012 disk space usage but also manage the hard drive spaces on your preferences, with just a couple of clicks. Wow! Sounds convening? Well, it is easy as a piece of cake, and you will be able to control everything related to the hard disks of your personal computer. You are going to feel like a rock star of the computer.

Extend Disk Space with IM-Magic Partition Resizer SERVER edition.
Directly download a tool named IM-Magic Partition Resizer SERVER edition from their site: https://www.resize-c.com/ Then Run the downloaded installer to initiate the fantastic program. Once the program will be installed successfully, allow IM-Magic SERVER edition to gather all of the information regarding your selected drives. Soon you will see that this simple tool is the most manageable drive software you have ever seen. Then use output sorted from IM-Magic Partition Resizer SERVER edition to determine where the largest directories are and where most of the space is consumed. This is how you can know where space has been used and what you can do about it. For your help, the developers of the IM-Magic SERVER edition have made the software so easy to use, and with this, you can efficiently resize partition Windows server 2012, move the drive spaces, merge, format and a whole lot of other functions.
[Guide] Steps to extend volume without data loss

This step by step guide will show you the right way to extend any volume using  IM-Magic Partition Resizer Unlimited edition.
Step-1  Download install, and launch the program.
Step-2 Right click the large volume to produce unallocated free space.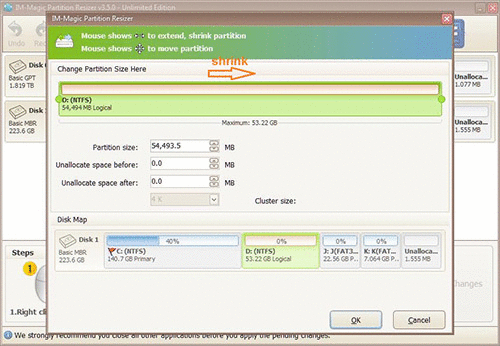 Steps to resize your disk partition
Step-3  Then right click c and drag the border to acquire the free space.

Steps to resize your disk partition
Step-4 Apply the changes.