Unallocated space is the volume which is not formatted, so you can add it to another partition to increase the space of that partition. Usually, you may want to add unallocated space to system partition on Windows 7 because it shows low disk space alert message on the partition.
Simply say, you can move existing unallocated space to extend system partition on Windows 7 by the following ways.
#1 Partition Resizer to add space to c drive
IM-Magic Partition Resizer Free is free partition software which supports to shrink volume, move partition and extend partition without having any influence on original data or your computer.
It's totally safe to use free tool Partition Resizer to move any drive on the disk safely that can change the location of the unallocated space and move it close to the c drive to get c drive expanded.
Here are the steps:
#1, Right click a large volume to shrink unallocated space if there is no unallocated space on the disk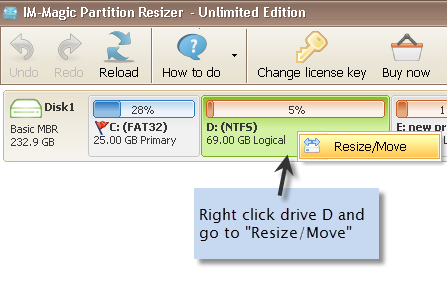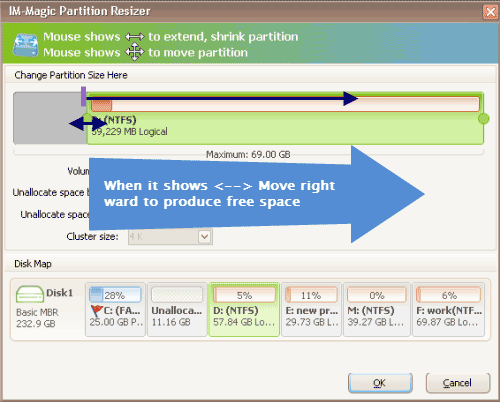 #2, When the unallocated space is not close to c drive, move the inbetween volumes to change its location one by one and then the unallocated space will be moved to the target drive.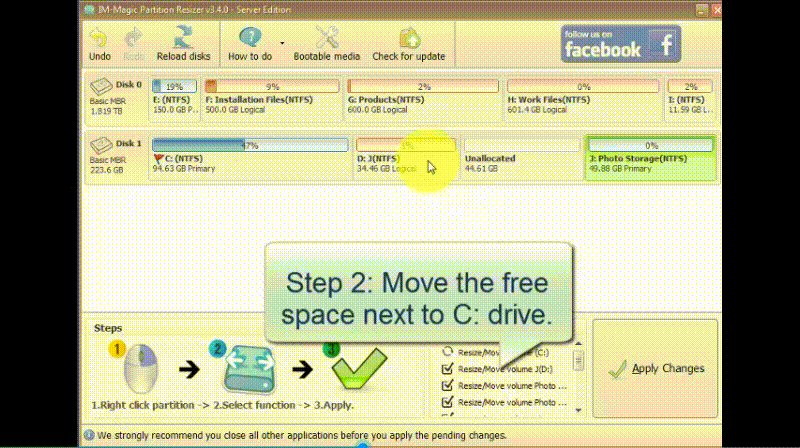 #3, Right click the system drive, and go to RESIZE/MOVE PARTITION, and then expand the c drive to cover its right side unallocated space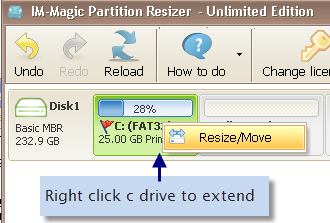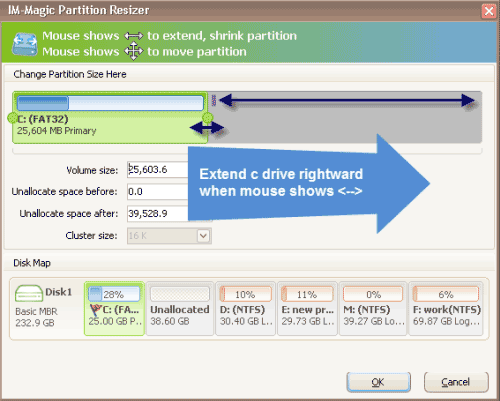 #4, Click APPLY CHANGES to get every step applied and then you will see a bigger c drive.

Download IM-Magic Partition Resizer Free Edition


Also read: how to add unallocated space to c drive
Part2: Shrink/Delete Volume to Get Unallocated Space in Windows 7?
Method 1: Shrink - Right click a large volume and shrink partition with Windows 7 Disk Management which would create some unallocated space (Note: Disk Management cannot expand volume with the unallocated space when it's not adjacent.), so the shrinking partition in Disk Management does not work from our test.
Method 2: Delete - Delete volume under Disk Management on Windows 7 if it cannot extend volume in disk management. (Delete the right side volume, for example, if you want to extend c, delete it's right side volume D, or any one that stands besides the c drive)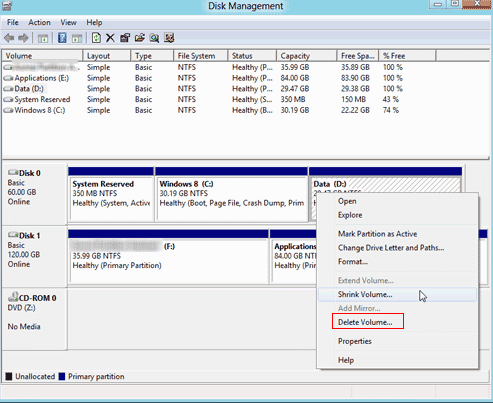 This one would work.

Question: Add Nonadjacent Unallocated Space to Windows 7 System Partition
As mentioned above, you have to make sure that the unallocated space is adjacent to the system partition if you want to add it to this partition. You have two choices to add unallocated space to extend C drive on Windows 7.
Method1: Windows 7 disk management delete volume to add the unallocated space C drive
#1 Deleting the c drive right side volume when the unallocated volume is close to it
#2 Right click the system partition and then select the Extend Volume option so that you can add the unallocated space to the selected partition.
Note: Disk Management can only expand volume c when there is contiguous unallocated space on NTFS volume C. It won't work when there is no contiguous right side unallocated space, or when the c drive has FAT32 file system. (3rd party free tool Partition Resizer can help under such circumstances.)
Method2: Free 3rd party software Partition Resizer
This free tool can help move nonadjacent unallocated space to c drive by moving the inbetween drives free without losing data and then you can add unallocated space to c.
Also read: how to add noncontiguous unallocated space to c drive