Have you ever encountered the problem that a hard disk or external hard drive shows uninitialized on your computer? Even worse, the uninitialized disk is unable to be initialized on Windows. This article will share free solutions for uninitialized disk external HDD fixing when it cannot be initialized.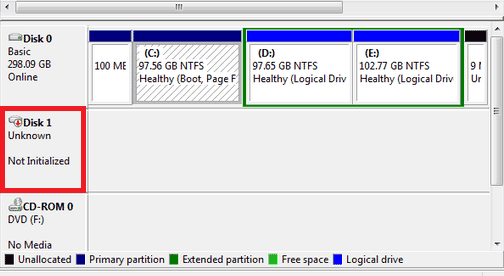 Whether it is internal hard drive or external HDD that shows uninitialized, you can initialize the disk with different reasons.

To get all methods to initialize disk on Windows computer, please go to this page – Free to initialize disk on Windows>>
Cannot Initialize Disk External Hard Drive
Sometimes, you may meet problem that it shows messing telling cannot initialize an internal hard disk or removable disk on your computer. When PC cannot initialize a disk, you may receive following alert messages.
Symptoms That Cannot Initialize Disk External HDD
1. The device is not ready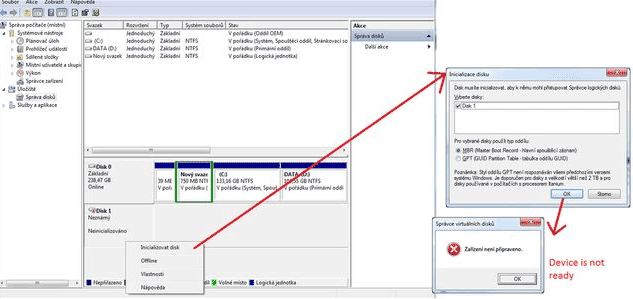 2. The system cannot find the file specified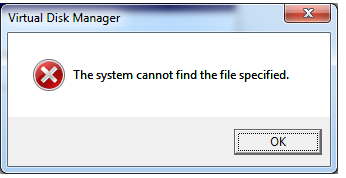 3. The Initialize disk is grayed out
4. Virtual Disk Manager: Incorrect Function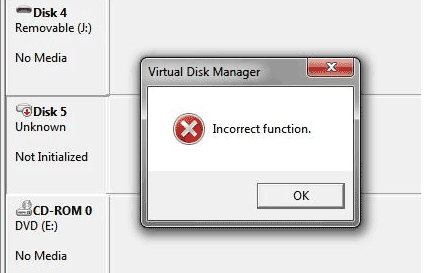 Reasons Why Initialize Disk Does Not Work
1. The disk or external HDD is corrupted due to virus infection
2. The internal hard drive or external hard drive has bad sectors
3. The CMOS setting is wrong
4. More other unknown reasons
How to Fix the Problem When Hard Drive External HDD Cannot Be Initialized?
Since the reasons why a hard drive or external hard drive cannot be initialized are different, you may use different methods to resolve the problem. Usually, you can try following solutions to fix the error:
1. Open CMOS to check CMOS setup.
For most of Windows computers, you can hold and press F2 or Del key when booting your computer so as to enter CMOS settings. After open CMOS, you can go to BIOS FEATURES SETUP and check if VIRUS WARNNING shows Disabled. If it shows Enabled, please change settings to Disabled.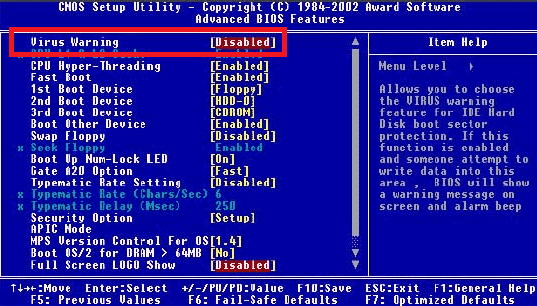 After changing the CMOS setup, you can try to initialize the disk again with any method you know.
2. Run anti-virus software
If the disk still cannot be initialized after modifying CMOS setup, you can run anti-virus software to check if the disk is infected with virus. Virus attack would corrupt partition table MBR and disable you to initialize disk. You can try to initialize disk (whether it is internal hard drive or external HDD) after erasing all viruses.
Freeware for Error Fix When Initialize Disk Does Not Work
If all methods above are not available for initializing hard drive or external HDD on your computer, you may need to use a free tool that is able to initialize disk.
IM-Magic Partition Resizer, a free disk management tool has the ability to initialize disk with ease, so follow the steps below to perform disk initialize when other solutions failed.
Download IM-Magic Partition Resizer Free Edition


Step1. Right click the uninitialized disk and select "Init Disk" option.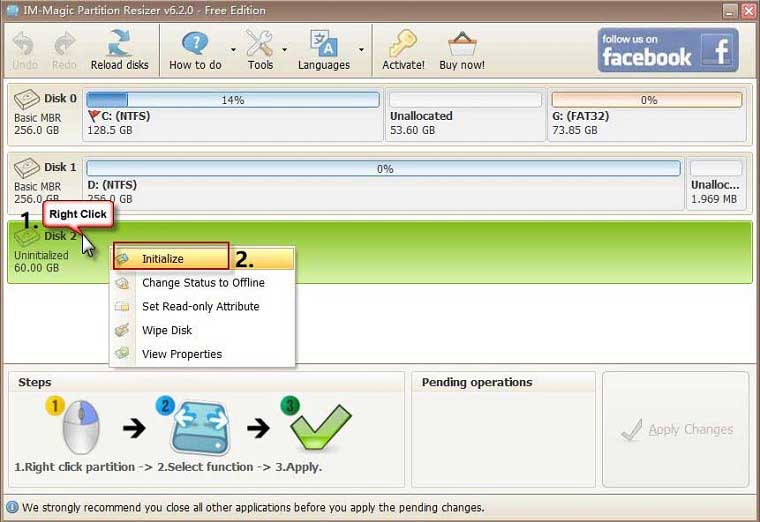 Step2. Confirm to initialize the selected disk and then click "Apply Changes" button.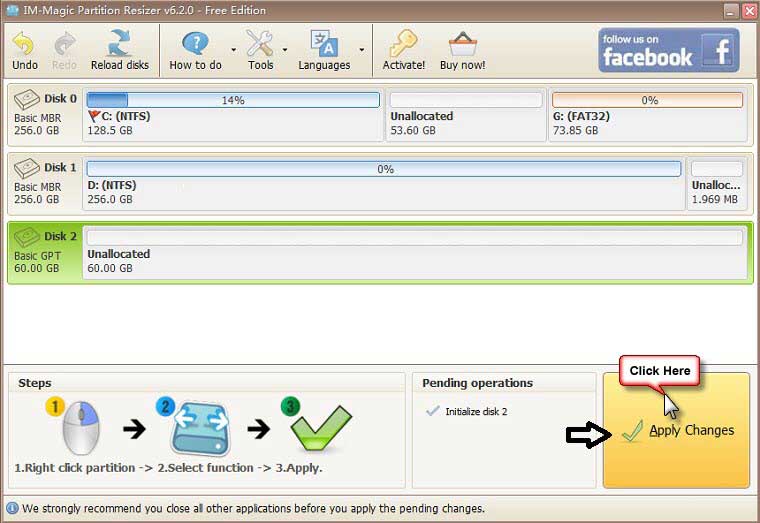 Also read: how to initialize disk in Windows 10
Cannot Initialize Disk Windows 10 / 8
Windows 10 and Windows 8 have similar user-interface, but Windows 10 has better performance than Windows 8. Whether it is an external hard drive or internal hard drive, it might be unable to be initialized by Windows 8 or Windows 10 when the disk is corrupted or has some other problems. The methods above are available on Windows 10 / 8 to initialize disk.
Disk Won't Initialize Windows 7 / XP
Windows 7 and Windows XP are Windows operating systems that were released earlier than Windows 10 / 8. Although Microsoft has stopped providing support for Windows XP, many people like to use Windows XP on their computer. When any disk won't initialize on Windows XP or Windows 7, you can also use the solutions in this article.
Download Proper Version of IM-Magic Partition Resizer
For Windows 11/10/8/7/Vista/XP/2000 ==> Download IM-Magic Partition Resizer Free
For Windows Server All versions ==> Download IM-Magic Partition Resizer Server