What Is Drive Letter?
A drive letter usually refers to a letter that was assigned to a disk partition on your computer. Each partition usually has a unique drive letter, which is the alphabetical identifier to the partition. The drive letter can be from A to Z, but you cannot assign the same drive letter to two or more different partitions. Drive letter A and B are usually assigned to floppy disk and the hard disk partitions are assigned with drive letter from C to Z. For example, system partition is often assigned with drive letter C by default, while the other partitions are assigned with drive letter D, E, F, etc.
Drive letter vs. volume label
Drive letter is different from volume label, but some users often confuse them. Simply say, drive letter is an alphabetical character to a partition and volume label is the name of the partition. (See following picture)
==>> If you want to change volume label of partition, please refer to this page – Free to change volume label of internal / removable disk
How to View Drive Letter on Windows PC?
On all Windows computer, you can view its drive letter by opening My Computer.
You can see all disks including internal hard drive and removable disk after opening My Computer, where you can view the drive letter of all disks. In addition, you can right click the drive and click Properties to view its drive letter.
Free to Change Drive Letter with Disk Management on Windows 10 8 7 Vista XP
Sometimes, you may want to change the drive letter of a disk partition on your Windows PC. It does not matter your PC runs Windows XP, Vista, 7, 8 ,10 operating system, you can use Disk Management to and follow the guide below to change drive letter of partition.
Following guide is available for changing drive letter of internal hard drive, external hard drive, USB flash drive and memory card on all Windows platform:
Step1. Open Disk Management on your computer.
==>> If you do not know how to access Disk Management on different Windows, please refer to the related articles about Disk Management at the end of this page.
Step2. Right click the partition that you want to change drive letter and select Change Drive Letter and Paths.
Pay attention: For a drive that has no media under it, you can also right click this drive and choose change drive letter and paths to change its drive letter
Step3. Click Change button
Step4. Select a different drive letter and click OK button
Step5. Confirm to assign the new drive letter
Reassign Drive Letter with Command Prompt on All Windows
You can run Command Line on Windows platform to reassign drive letter to disk partition by following guide below:
Step1. Run Command Line on your computer
==> To get all methods to access Command Prompt under different Windows, please visit this page – How to access Command Line
Step2. Type diskpart and then type list volume
Step3. Type select volume 3 (suppose volume 3 is the volume that you want to change drive letter)
Step4. Type assign letter=R (R is the new drive letter that you want to assign to the selected drive)
Freeware for Changing Drive Letter in Windows XP, Vista, 7, 8 , 10
Without relying on Disk Management or using Diskpart utility, you can use IM-Magic Partition Resizer to change drive letter of hard disk partition on Windows XP, Vista, 7, 8, 10 by following the guide below:
Step1. Right click the partition and select "Change Drive Letter" option.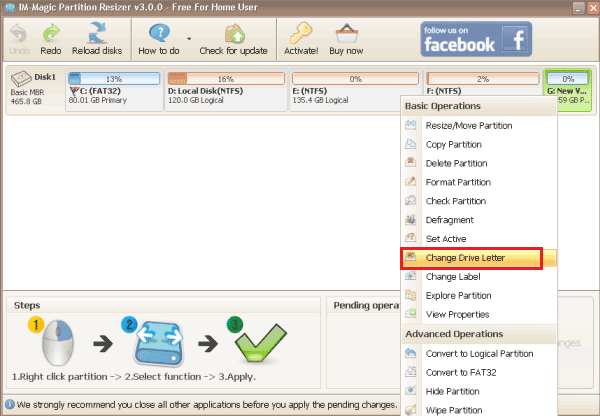 Step2. Select a new drive letter and click "OK" button. Then, click "Apply Changes" button to commit the operations.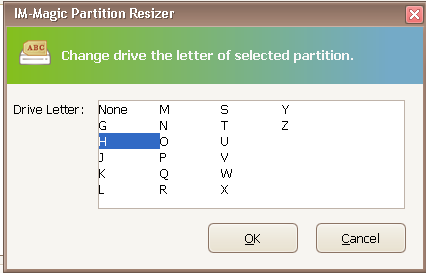 Download Proper Version of IM-Magic Partition Resizer
For Windows 10/8/7/Vista/XP/2000 ==> Download IM-Magic Partition Resizer Free
For Windows Server All versions ==> Download IM-Magic Partition Resizer Server