How do you convert NTFS partition to FAT32 on Windows 10? This article will share methods to convert NTFS partition to FAT32 file system with/without formatting it.
Why Not Format NTFS to FAT32 on Windows 10?
It is true that you can convert the file system of any partition from NTFS to FAT32 by formatting on your computer that runs any Windows operating system. In fact, it is quite easy to do so! However, why is it recommended not to format a partition to change its file system from NTFS to FAT32 on Windows 10?
Reason:
Formatting is not a good solution for partition converting on Windows 10 because it usually erase everything stored on the partition. Although you can back up the important data in advance before performing formatting, you cannot 100% guarantee that it will not cause any data loss. Therefore, you should not format a partition to covert its file system on Windows 10 for the sake of data security.
Quick Navi
Part1: Convert ntfs to fat32 without losing data
Free tool Partition Resizer can help change the disk partition from NTFS to FAT32 without losing data.
IM-Magic Partition Resizer is not only a ntfs to fat32 converter but also a partition magic that enables users to resize hard disk. This software is able to perform partition converting without asking you to reformat the partition so that you would not lose even a single file. It is safe to use, which does no harm to the disk partition or data stored on it.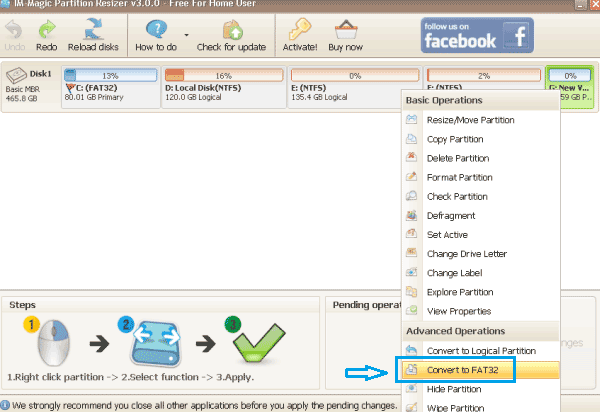 Here are the steps to change disk drive to fat32 in Partition Resizer.
For Windows 11/10/8/7/Vista/XP/2000 ==> Download IM-Magic Partition Resizer Free
1, Download and open Partition Resizer
2, Wait it to load every partition on your computer in the software
3, Right click the drive that you want to change it to fat32, and select option CONVERT TO FAT32
4, Confirm the conversion
5, Click APPLY CHANGES in the software, and you are done.
Tip:
FAT32 cannot supports a single file that is larger than 4GB, so the files which are larger than 4GB probably become unreadable after converting a NTFS partition to FAT32. You had better move those files which are larger 4GB to another NTFS partition in advance.
==>>Also read: Convert partition from ntfs to fat32 without formatting
Part2: Diskpart cmd to conver ntfs to fat32 on Windows 10 (formatting involved)
Converting NTFS to FAT32 in Windows 10 can be done through the following steps:
Note: Before proceeding with the conversion, it's recommended to back up all important data from the drive as the conversion process involves formatting the drive which will delete all existing data.
Press the Windows key + X and select "Disk Management" from the list.
Right-click on the drive you want to convert and select "Format".
In the Format window, select "FAT32" from the File System drop-down menu.
Adjust the Allocation unit size and Volume label according to your preference.
Uncheck the "Perform a quick format" option if you want to do a full format.
Click on "OK" to start the formatting process.
Wait for the formatting process to complete.
Note: Converting from NTFS to FAT32 can result in a loss of some features like file-level security and support for large files (over 4 GB). So, it's recommended to make sure that FAT32 is the suitable file system for your needs before proceeding with the conversion.
Cannot Convert System Partition to FAT32 by Formatting in Windows 10
Usually, you are not allowed to format a system partition to FAT32 file system because the Windows 10 system is installed on this partition. It would cause system crash and make computer unbootable after formatting system partition. Therefore, all Windows computers including Windows 10 do not allow its users to perform format on a system partition. If you insist on converting system partition from NTFS to FAT32, you have to reinstall system and format it.
Please remember to backup data before performing system reinstalling in case that all important files got lost after formatting.
==>> Related Article: Convert NTFS to FAT32 without data loss