How to Hide Partition
You may want to hide a partition in order to protect it from unwanted access when you have stored lots of essential data on this partition. Hiding a partition is a process to make the partition become invisible on your computer, so nobody can access any data stored on a hidden partition. Therefore, it is a good method to save important files to a hidden partition for the sake of data security.
How to Hide Partition?
If you want to hide partition, you can use IM-Magic Partition Resizer and follow the guide below:
Step1. Right click the partition that you want to hide and select "Hide Partition" option
Step2. Click "Yes" button to confirm hide the selected partition.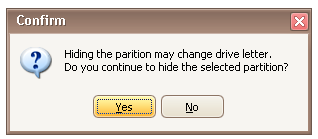 Step3. Click "Apply Changes" button
Tip: System / boot partition cannot be hidden
Download Proper Version of IM-Magic Partition Resizer
For Windows 10/8/7/Vista/XP/2000 ==> Download IM-Magic Partition Resizer Free
For Windows Server All versions ==> Download IM-Magic Partition Resizer Server
More Related Articles You May Like
Copyright © 2017 IM-Magic Inc. All rights reserved. Windows® is trademark of Microsoft Inc., and Partition Magic® is trademark of Symantec Inc registered in the U.S. and other countries . IM-Magic's software is not developed by or affiliated with Microsoft nor Symantec Inc.