How to Set Active Partition
How can you set an active partition? An active partition must have a boot sector created by Windows operating system and know the location of operating system, otherwise; your computer cannot boot normally. Usually, the active partition Under Windows operating system, active partition is usually known as system partition, namely C drive.
How to Set Active Partition?
If you want to set active partition on Windows, you can use IM-Magic Partition Resizer by following the steps below:
Step1. Right click the primary partition that you want to set as active partition and select "Set Active" option.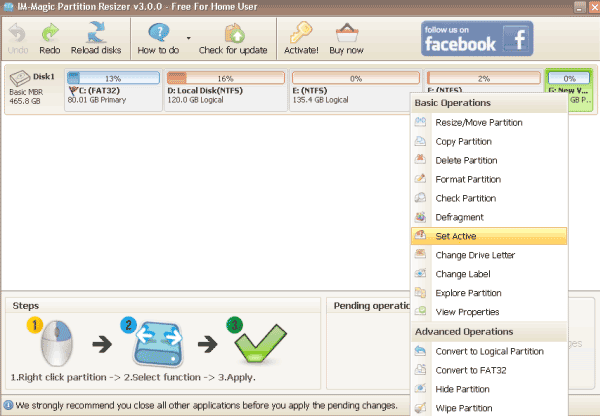 Step2. Click "Yes" button to confirm that you want to change the selected partition as active partition.
Step3. Click "Apply Changes" button
Download Proper Version of IM-Magic Partition Resizer
For Windows 10/8/7/Vista/XP/2000 ==> Download IM-Magic Partition Resizer Free
For Windows Server All versions ==> Download IM-Magic Partition Resizer Server
More Related Articles You May Like
Copyright © 2017 IM-Magic Inc. All rights reserved. Windows® is trademark of Microsoft Inc., and Partition Magic® is trademark of Symantec Inc registered in the U.S. and other countries . IM-Magic's software is not developed by or affiliated with Microsoft nor Symantec Inc.