Summary
When your Windows 7 system drive is about to be full, you will find that your computer run slow, this article will provide you with some useful information to free up disk space on Windows 7 system.
Table of Contents
Introduction
Hard drives play a key role in any computer's performance. When your hard drives become full, your computer do not function as good, fast, and efficient as it used to be. It is normal to delete unused programs, files, and games when your system runs out of space. However, what if your system is showing "Disk Space Full" but it is not full at all. This can occur due to several reasons. For example, your system may be affected by viruses, faulty programs, and hidden utilities.
Before deleting your files manually, it is recommended to make use of certain methods that may free up your disk space. Follow me through this article and I'll try my best to mention possible solutions to free up disk space windows 8,7, and 10.
Windows 7 Free Up Disk Utilities with/without software
There are several system applications in the windows that can help you to free up disk space in windows 7,8,10. Some of them are explained below.
#1 Disk Clean-up Utility
Disk Clean-up utility is an efficient way to cleaning up any unnecessary files from the disk. Don't worry because it doesn't affect your personal files, yet it cleans up all the unused system files from the computer. To free up disk space using Disk Clean-up, follow the steps below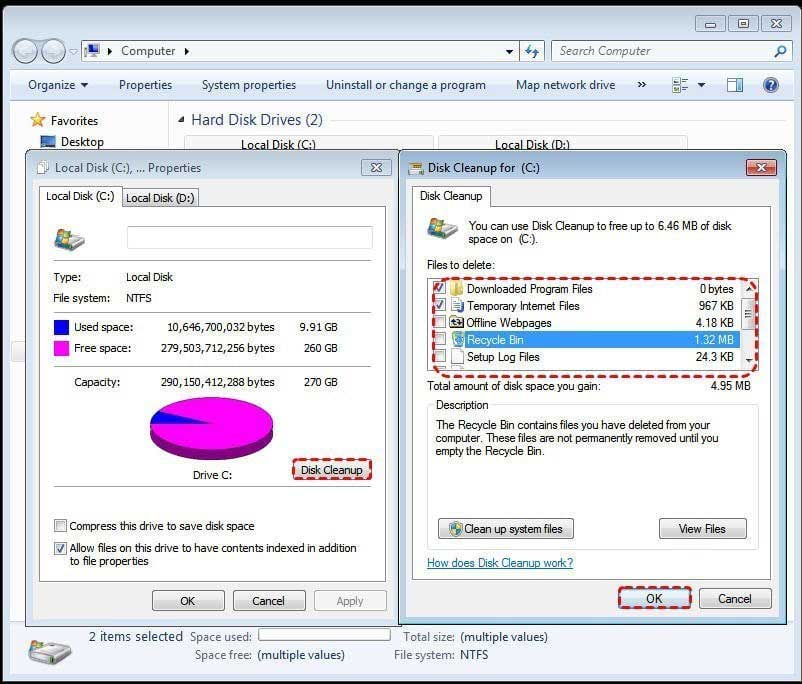 • Go to Computer
• Right click on the disk you want to clean, let's say c-drive
• Select properties from the drop-down menu
• On the bottom of the general tab you will see a "Disk Cleanup" button.
• Clean up your disk.
#2 Delete Temporary Files
You can also delete temporary files that may have been created by some programs i.e. application software, internet browser, and more. The most efficient method to delete all temporary files from your system is as follows.
• Simply press Windows+R
• A dialogue box will appear at the left bottom side of the screen.
• Type "%temp%" and click on OK or press Enter
• A new window with a lot of files and folders will appear
• These are all temporary files and you can select all the delete the folder without any hesitation.
• You can also check the size of these files by selecting them all and going to the "Properties.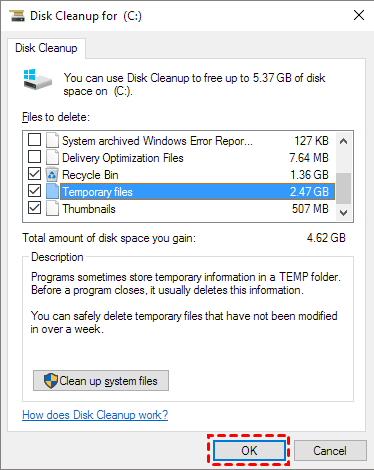 #3 Uninstall Programs and Utilities
When your c drive becomes full, you may have to delete the unnecessary programs and features from your computer. To avail the "Programs and Features" utility, follow the steps nelow
• Click on the Start menu and search for Control Panel
• Now search for the "Program and Features" utility from the control panel
• When you click on the Programs and Features, a new window will appear
• This window shows all the application programs installed on your computer
• You can simply delete/uninstall any program to free up disk space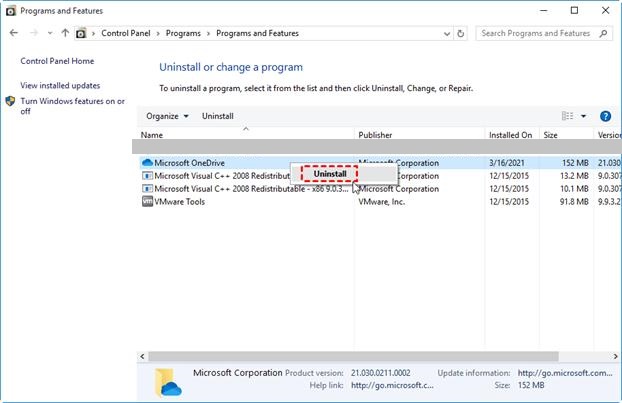 #4 Extend Partition with Third-party Freeware (Add 50+GB space to c drive)
If all the above solutions do not help you to free up enough space on your disk. You can extend the c drive by using the free space from other partitions in your computer. The IM-Magic Partition Resizer is one of the best freeware for this purpose. The IM-Magic Partition Resizer helps you extend any partition without any kind of data loss.
Video - how to shrink a large volume and expand c drive without losing data [100% free]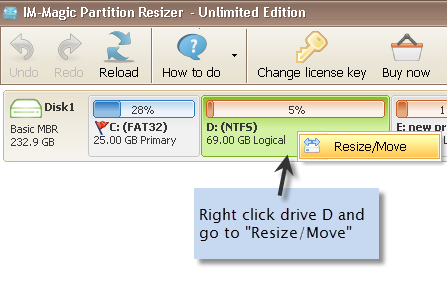 Extend partition with freeware IM-Magic Partition Resizer free
Verdict
The above solutions are very likely to help you to free up disk space in windows 7,8,10. If these solutions do not work and you don't have enough space to extend the c-drive from other partitions. Then try finding a bigger hard disk to add to your system. In case of any questions or suggestions, feel free to contact us.
Also read: Windows 7 c drive full fixes