Summary
C drive full of data and low disk space warning pops out? Don't worry, this article will show you how toincrease C drive for totally free, we will introduce system tool and a reliable freeware.
How to Increase C Drive Space for Windows 11/10/8/7 without Formatting
"My C drive is running out of space , and my data on the C drive is important, how can I increase C drive space on my Windows 10 without formatting?"
This is a common question asked by people, if you have the same problem, you come to the right place, in this article, we will show you how to increase C drive space without formatting and you can make it for totally free!
Increase C Drive Space with CMD Diskpart or Disk Management
If you are familiar with Windows system tool, you may know Disk Management and CMD diskpart command line. You can try these two built-in tool to increase your disk partitions.
While before I show you the steps to make it, there are something important you need to know.
Notice:
1.When you use CMD Diskpart or Disk Management to increase the C drive, there can be data loss problems on your C drive. If you don't want to lose data on the C drive, you'd better try another way.
2.Disk Management can only work under NTFS file system. And the "Extend Volume" function can only work when there is some unallocated space.
Steps to Increase C Drive Space with CMD Diskpart
Run CMD by press "Win+R", type "CMD" in the window.
Type "diskpart" in the window and press Enter.
Type "list volume"
Type "select volume X (X is the drive letter of your disk drive.)
Type "extend size=10240 (size stands for the capacity you will extend by and the unit is MB) and Enter, if you want to shrink your volume, you can type "shrink" to replace "extend".
Type "exit" and finish.
Steps to Increase C Drive Space with Disk Management
Right click the "Computer", choose "Manage" option to go, enter Disk Management, then find your C drive, right click it and choose "Extend Volume", next you can select a suitable volume size and add it to your C drive, then reboot your computer and you can have your C drive increased.
ncrease C Drive Space with Freeware Partition Resizer
The third solution is the easiest way to increase the C drive space, you can extend any drive on your hard disk easily. Here I would like to recommend IM-Magic Partition Resizer, which is a effective partition manage tool with many useful functions. It has a free version for Windows 11/10/8/7/XP/Vista, you can download it and manage your disk partitions for totally free.

What makes me like IM-Magic Partition Resizer most is that the operation speed of this program is much faster than most partition manage software in the market, and it has 100% safety. It is really worth having a try.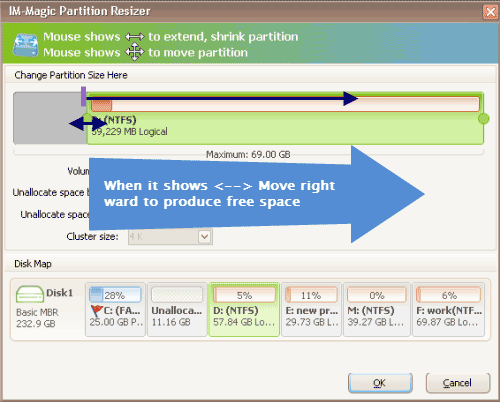 Extend partition when the extend volume greyed out
Increase C Drive Space Windows Server 2003/2008/2011/2012/2016
IM-Magic Partition Resizer also has a server edition which is compatible with all the Windows sever systems including 2003/2008/2011/2012/2016, it is free for trail, and it has more functions than free edition.
If you are Windows server user, you can free download it here.