Summary
If your computer keeps saying your disk is in low disk space, you may wonder is that caused by virus and how to remove low disk space and how to extend disk space. Don't worry, this article will provide you with some useful solutions to make it.
Why your disk is in low disk space
Sometimes your computer brings up the 'low disk space' warning and you are shocked because you didn't download any large file recently and you had enough storage space the last time you checked.
Yeah, this is the common complaint we get from windows users, regardless of the windows version.
In such cases, what could have been the cause for the automatic filling up?
This could only be done by a virus we call the 'space eater'. This virus or malware gets into your computer through a link, file or app and sucks up the available space.
To combat low disk space, you will have to remove any malicious program from your computer, install an anti-virus, and update your software.
This article is dedicated to teaching you the necessary 'low disk space virus removal' steps to take in Windows 7 and 10.
How to Fix Low Disk Space Windows 7 by Uninstalling/Removing the malware
First, you have to locate the malicious program causing the 'low disk space' notification but in the control panel. So, let's get the control panel.
Click on 'start' to display all the programs in the computer and select the 'control panel'.
Select the 'programs and features' option when the control panel opens.
A list containing the recently installed program would come up for you to select which program to uninstall.
Look through the list for any suspicious or unknown program and click on uninstall to remove such malware from your computer device.
You can also remove 'low disk space' warning from your browsers or install an anti-malware.
Fix: Low Disk Space Windows 10 with Cleanup Tool
The above method works best for windows 7 but you could try uninstalling suspicious programs from windows 10 too.
Another effective way to remove a virus is shown below;
Point 1
Disconnect your network connection
Reboot the computer device
Locate the 'processes' feature and end the process of any suspicious or unwanted program.
Then, make use of the built-in 'system restore' tool
Point 2
This cleanup means might not work for every computer device. If the 'space' is not restored after following the above steps, then, you should open your C drive and check the size of each program installed in it.
Be sure to delete any file with a huge size, basically any file above 1GB.
Point 3
Having an effective, up-to-date antivirus or antimalware is another sure means for low disk space virus removal. Your computer is prone to any virus without an antivirus protection, as such, you should install a powerful antivirus.
Point 4
Using a safe browser is yet another solution, most of the browsers you use do not block these malware pop up. I would recommend safer browsers like Google Chrome and Mozilla Firefox.
Point 5
Also, be mindful of the links you click as most malware enters your computer device through a suspicious link.
Extend Partition with Partition Freeware
Well, if your C drive does save a lot of stuff, you will need to extend C drive, the most effective and easiest way is to use a partition freeware. Here I recommend IM-Magic Partition Resizer Free, which is a freeware to manage your disk partitions, you can extend any partition with it safely.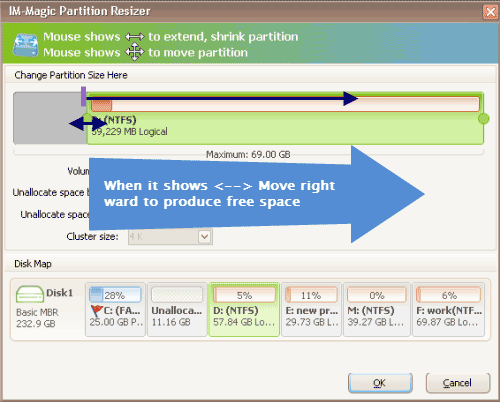 Extend partition with partition freeware