Do you feel any different when a partition shows red bar in Windows My Computer? Why does C partition show red bar? Do you need to resolve the problem if C drive shows red bar on Windows? Probably, you never pay attention to this problem before reading this article or really meeting any trouble due to this problem.
How to Resolve C Drive Red Bar Issue in Windows - 3 Ways
When C drive shows red bar, the best solution is to increase the size of C drive on Windows.
Usually, you can select any of following methods to extend C drive system partition on Windows:
Method 1: Disk Management for C drive extending on Windows
If you want to expand size of C drive since it shows red bar on Windows, you can use Windows Disk Management to resize hard drive on your computer. Disk Management on Windows has the ability to remove the c drive red bar sign if you delete the c drive adjacent volume, and then extend c drive when the C is NTFS file system.
Step1: Delete C drive adjacent volume, here delete the drive D as an example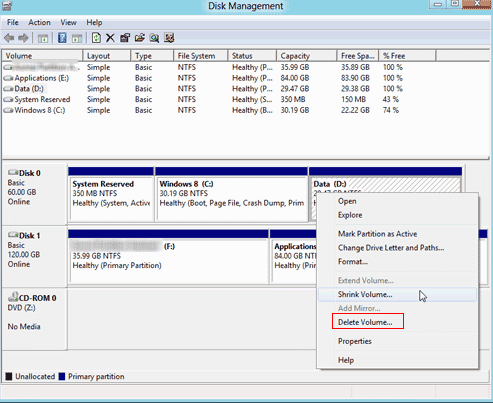 Step2: Extend C drive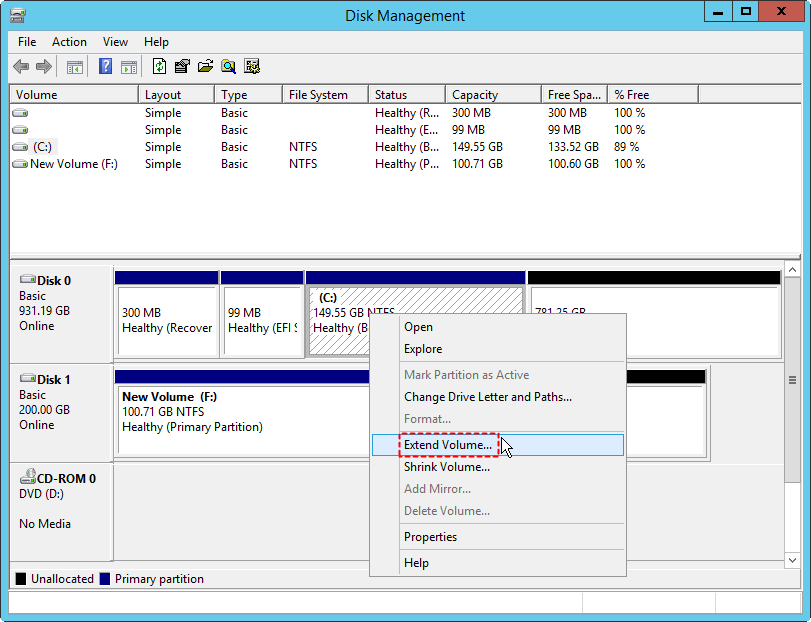 Note: If the system c drive is FAT32, Disk Management extend volume will greyed out, a free tool Partition Resizer can help extend FAT32 c volume without losing data.
Also read: how to extend C drive space as with contiguous unallocated space in Disk Management of Windows.
Method 2: Repartition hard disk for C drive expand in Windows (Not easy)
You can also repartition hard disk in Windows so as to reallocate enough free space to C drive. With this method, you have to reinstall system, so you had better backup data before repartitioning hard disk for C drive expanding.
Method3: Fix Red Bar Problem on System Partition with Free Partition Software
The two methods mentioned above are Windows built-in tool for partition resizing, you can also use Windows partition software to redistribute disk space in order to fix the problem when system partition shows red bar and has insufficient free space.
IM-Magic Partition Resizer Free is a free tool, which helps resize hard drive without reinstalling system. Therefore, you can rely on this free partition magic tool to shrink a large volume, and then extend system partition to fix red bar problem on it on Windows.
Step1: Shrink a large volume to produce unallocated space, here in the example, shrink a large D drive without losing data.
Right click D drive in the software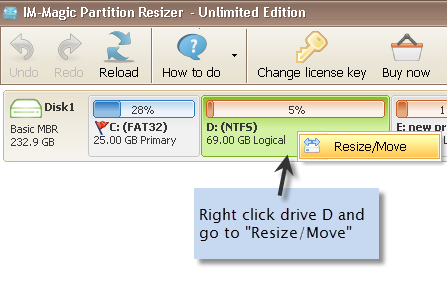 Move the border of D drive to the right by draging its border.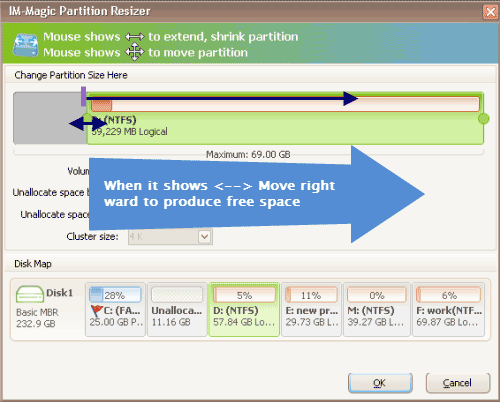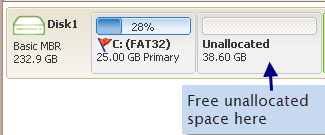 Step2: Right click C drive, and then go to RESIZE/MOVE PARTITION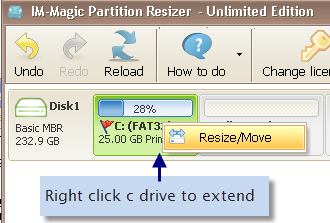 And claim the unallocated space and add it to C drive to fix the red bar problem on C drive.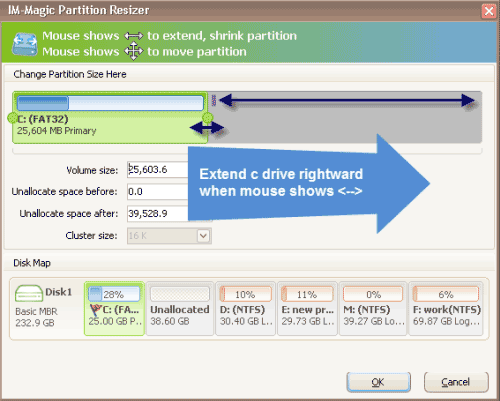 Step3: Click Apply Changes to get every step applied.

What does a red bar mean on Windows disk partition?
There is an intuitive interface in My Computer of Windows 10/7 operating system, on which it shows how much space each partition has and how much free space has left on each partition. If Windows system considers that a partition still has enough available space, this partition usually shows blue bar. If a partition only has little free space left, this partition will show red bar. Therefore, if you find that C drive shows red bar on Windows, it usually means that this partition has low disk space.
Results of C Drive Red Bar (Low Disk Space) on Win10/7
In fact, if it is other partitions like D, E, F drive shows red bar, it does not cause many troubles. The only inconvenience is that you may fail to store a large size of file to this partition. However, if it is C drive runs out of disk space and shows red bar on Windows, it may result in many problems.
Since C drive is also known as system partition, Windows will frequently report low disk space warning on C partition when it shows red bar. If you often receive the low disk space alert message on system partition, you may run into following problem on Windows:
1. Your PC runs slowly. It always responds for a long time no matter you want to launch a program, open a link or, close a window or do something else on your computer.
2. Windows reboots quite slowly. It spends a long time every time you want to boot your computer.
3. You are unable to install any Windows update on your computer because system partition does not have enough free space.