Windows 8 Disk Management has powerful function to manage disk space. You can perform many tasks under Windows 8 Disk Management, among which extending volume is a common operation that many computer users usually perform on Windows 8. However, you may find that Disk Management is grayed out when you attempt to extend volume on Windows 8 in most case. Why? Is there any way to resolve the problem when Windows 8 disk management is grayed out and fails to extend volume?
Windows 10/8/7 fix -> Extend volume greyed out Windows 10 fix with freeware
Freeware Partition Resizer to Help when Windows 8 Extend Volume Greyed Out
If you need any partition software for Windows 8 partition resizing since Disk Management does not work, you can use IM-Magic Partition Resizer Free. It is a free partition manager tool, which has the ability to extend partition, shrink partition, move partition, format partition, delete partition and more. You can use this free partition software to resize hard drive on Windows 8 when you want to create new partition or fix low disk space problem on any partition.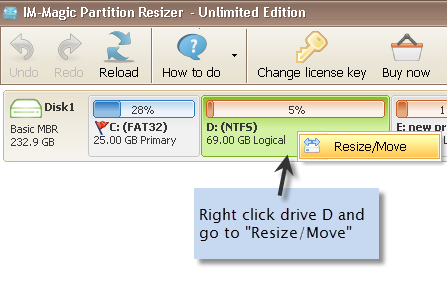 Download IM-Magic Partition Resizer Free Edition


Video tutorial - How to extend volume with freeware Partition Resizer on this page https://www.resize-c.com/video/
Reasons Why Disk Management Grayed out to Extend Volume on Windows 8
When you open Windows 8 Disk Management, you can find that there is an option named "Extend Volume". As its name shows, you can select this option to extend volume so as to fix low disk space problem. However, if you have ever tried to extend volume on Disk Management on Windows 8, you may find that "Extend Volume" shows grayed and disables you to extend the selected volume. Well, the reason why "Extend Volume" is grayed out is that there is no contiguous unallocated space.
What is contiguous unallocated space?
Unallocated space refers to the volume that is not formatted to recognized file system like NTFS, FAT32 or exFAT, etc. Unallocated space usually shows as unknown device. You can format an unallocated volume and assign a drive letter to it so as to create a new volume. Or you can add unallocated space to another drive to increase size of that volume. If you want to add unallocated space to a volume, you have to move it close to the volume you want to extend. Otherwise, the "Extend Volume" will show grayed out under Disk Management.
If there is no unallocated space, you can right click a partition that has lots of free space and select "Shrink Volume" to squeezes some unallocated space. However, how can you move the unallocated space close to the partition you want to extend since Disk Management has no ability to move partition?
How to Expand Partition When Win8 Disk Management Not Work?
What can you do when Windows 8 Disk Management fails to extend volume without contiguous unallocated space? You can try following methods:
1. Take system partition as an example, if system partition is running out of disk space and needs to be extended, you can delete the partition (usually D drive) behind C drive. The D drive will show as unallocated volume right close to C drive after deleting. In this situation, you can right click C drive and select "Extend Volume" option to add the unallocated space to system partition.
Pay attention: When you delete a partition, the data stored on it will be erased at once. Therefore, you had better move all important data to another drive before deleting it. If D drive contains too many important files and has not much free space, it is not recommended to delete it to get unallocated space.
2. What else can you do when there is not way to extend volume in Disk Management in Windows 8? In this situation, you can rely on partition software to resize hard drive on Windows 8.