Windows 10 performance optimization, also called performance tuning, is a process to improve the performance of the system so that your computer is able to run more quickly. Usually, your computer will have a better performance and work more efficiently after performance optimization. Therefore, if your computer which runs Windows 10 operating system works more and more slowly, you can optimize the Windows 10 for better performance.
Free to Optimize Performance of Windows 10 without Data Loss
It is an annoying thing when a PC runs very slowly since Windows 10 does not have a good performance, so it is quite necessary to improve the performance of Windows 10 to make your computer run more quickly. There are different methods to optimize Windows 10 performance, but you had better backup all data before performing performance optimization in order to avoid unexpected data loss.

Method 1: Cleanup Windows. Old Folder & Cleanup Junk Files on Windows 10
When you realize that Windows 10 does not have a good performance anymore, you can cleanup all junk files or cleanup "Windows. old" folder. Usually, if you upgraded your computer to Windows 10 from previous Windows OS like Windows 8, you had better check if there is a folder named "Windows.old" on C drive. This folder usually contains 10GB data. You can delete this folder if you do not need to downgrade the Windows 10 operating system to previous Windows operating system. Usually, this method can do some work to improve the performance of Windows 10. You can also manually delete some unnecessary / old files or perform disk cleanup on system partition so as to release some free space for Windows 10 partition.
Method 2: Fix Disk Errors and Bad Sectors on Windows 10 Partition
It will have influence on the performance of Windows 10 if the hard drive on your computer has errors or contains bad sectors. Therefore, you can check and fix errors or bad sectors on disk partition on Windows 10 to optimize it performance by following the steps below:
Step1. Double click This PC on Windows 10 desktop so that you can see all partitions on your computer. Right click a partition and then click Properties option.
Step2. Click Tools tab > click Check Now button under Error Checking > select Automatically fix file system errors and Scan for and attempt recovery of bad sectors > click Start button
Method 3: Improve Windows 10 Performance in Control Panel
You can optimize the Windows 10 performance by change the settings in Control panel by following the steps below:
Step1. Click Start button and then click Control Panel
Step2. Click System and Security > click Advanced system settings
Step3. Click Advanced tab and then click Settings under Performance to open performance options window
Step4. On Performance Options window, you can change settings as you wish to improve the Windows 10 performance.
Method 4: Extend System Partition for Windows 10 Better Performance
Windows 10 operating system is usually installed on C drive, so this drive is also known as system partition. When system partitions runs on low disk space on Windows 10, it will also affect the performance of your computer. Therefore, if your PC runs slowly after reporting low disk space warning on C drive in Windows 10, you can increase the size of system partition to optimize the Win10 performance.
Solutions for Windows 10 system partition expanding
1. You can run Disk Management on Windows 10 to extend system partition by get free space from other partitions on the same hard disk.
2. You can use Windows 10 partition magic software to expand system partition space on Windows 10. IM-Magic Partition Resizer Free is a free partition tool for Windows, so you can use it to extend C drive for free so as to improve Windows 10 performance.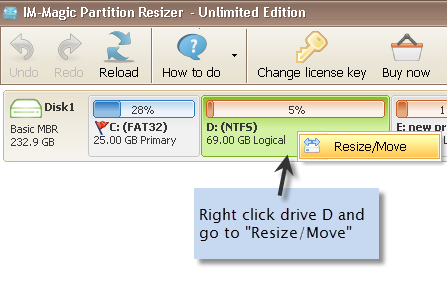 Download IM-Magic Partition Resizer Free Edition