How do you resize disk partition for free on Windows XP, Vista, 7, 8, 10? You may need to mange disk space and resize disk partition on your computer when you meet the following situations:
>> You are not satisfied with the disk space of each partition on Windows hard drive
>> C drive reports low disk space message on Windows XP, Vista, 7, 8 , 10
>> There is not enough free space on a partition while some other partitions on the same hard disk is still empty
>> You want to create more partitions by manage disk space on Windows PC
This article will tell you how to resize disk partition on Windows 10 / 8 / 7 / Vista / XP for free.
Free Methods to Manage Disk Space in Windows 10 8 7 Vista XP
There are several methods for different Windows users to mange disk space for free. You can select the proper solution on your computer:
1. Disk Management
Every Windows PC has Disk Management, with which you can manage disk space. Therefore, you can use Disk Management to resize partition on Windows computer.
Windows 10 / 8 / 7 / Vista: If your PC runs Windows 10, 8, 7, or Windows Vista OS, the built-in Disk Management has the function of shrinking partition and extending partition. You can shrink partition to squeeze unallocated space, and then you can extend partition by add the unallocated space to the partition that you want to expand.
Windows XP: If your computer runs under Windows XP OS, there is no shrink partition or extend partition function under Windows XP Disk Management. If you insist on managing disk space with Disk Management tool on Windows XP, you have to reinstall system and repartition hard drive to redistribute disk space n your PC.
2. Diskpart command
You can also use Diskpart command to extend a partition on Windows 7, 8, 10, but it is not easy to handle.
You may be interest in Windows 10 Diskpart extend volume. You can refer to this article and follow the guide to extend disk partition with Diskpart command on Windows 7, 8, 10.
Why Fail to Resize Windows Disk Partition Sometimes?
Whether you use Disk Management or Diskpart command to extend a volume, you may meet some problem to expand the volume successfully. In some situations, you may fail to resize Windows Disk partition with those two methods. Why? Here are some possible reasons:
1. When you shrink partition with Windows 10 Disk Management, Windows 8 / 7 Disk Management, the unallocated space is not contiguous to the partition you want to extend. Without adjacent unallocated space, you will fail to extend the selected partition when using Disk Management or Diskpart.
2. Windows PC will report that the selected partition cannot be extended when you run Diskpart to extend system partition or FAT32 partition. Diskpart command is only available for NTFS data partition expanding with contiguous unallocated space on the same hard drive.
Free Software to Resize Partition on Windows XP Vista 7 8 10
When you are unable to resize disk partition with Windows Disk Management or Diskpart command due to their limitation, you can use Windows partition software. IM-Magic Partition Resizer Free is able to work on Windows XP, Vista, 7, 8, 10 for partition resizing for free. This partition software has the ability to manage disk space without touching any data on the hard disk or reinstalling Windows operating system. You can resize hard drive easily without needing to repartition hard drive, reformat disk or reboot your computer.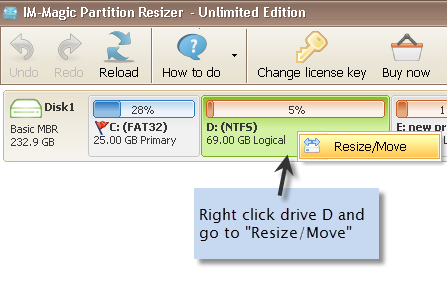 Download IM-Magic Partition Resizer Free Edition