How do I extend hard drive C in Windows 10? You usually need to extend a disk partition when Windows 10 says that the partition is running out of disk space. It does not have too much influence on PC if a data volume runs on low disk space, but it may slow down your PC and even cause many trouble if the system partition is running out of disk space on Windows 10.
All Free methods to extend disk partition in Windows 10
1. Disk Management to extend hard drive partition Windows 10
2. Diskpart command to extend hard disk partition in Windows 10
3. Resize hard drive to extend system partition by reinstalling Windows 10
4. Free partition software for Windows 10 hard drive partition extending
Disk Management to Extend Windows 10 Hard Drive Partition
Simply say, extending a partition is the process to move unallocated space from another partition on the same hard drive to the partition that you want to extend. Therefore, you have two things to do in order to extend a partition, namely getting unallocated space and extend partition with the unallocated space.
As a PC user who has installed Windows 10 on your computer, you probably know that there is Extend Volume and Shrink Volume option under Windows 10 Disk Management. You can get unallocated space by shrinking partition and you can increase the size of a partition by extending partition.
Tutorial: how to shrink partition and extend c drive using disk management
Can't extend c using disk management?
It seems like that everything is easy by using Windows 10 Disk Management to extend a partition, but the problem is that you may fail to add unallocated space to the partition you want to extend because the unallocated partition is not adjacent to the partition you need to extend.
Does it mean that it is not able to extend partition with Disk Management in Windows 10? In order to resolve the problem that unallocated space is not contiguous to the partition you want to extend, you can produce unallocated space by deleting partition rather than shrinking partition. You can get contiguous unallocated space by deleting the partition which shows behind the partition you want to extend.
If you do not want to delete any partition and get c volume extended, simply use freeware Partition Resizer Free.
Extend Hard Disk Partition with Diskpart Command in Windows 10
Diskpart is Windows built-in command line, with which you can extend hard disk partition on Windows 10. You can follow this guide to extend disk partition with Diskpart in Windows 10:
Step1. Run Diskpart command line by clicking "Start" > "Run" > type "diskpart" and click "OK"
Step2. Type the "list volume" > type "select volume x" (x refers to the volume you want to extend such as volume 1, volume 2 …) > type "extend"
Disadvantages of Diskpart command
1. Diskpart cannot extend system partition, so you can only use it to extend data volume.
2. Diskpart command does not support FAT32 file system, so you can only use it to extend NTFS partition.
3. Diskpart cannot extend volume when there is not adjacent unallocated space on the right of the partition you want to expand.
Extend System Partition by Reinstalling Win10
If you know how to reinstall Windows 10 operating system, you can reinstall Win10 OS on PC and resize hard drive for partition resizing. Usually, you can delete some or even all partitions on the same hard drive on Windows 10 in system reinstall process and then repartition hard drive to create a new system partition. With this method, you often need to backup important data before performing system reinstalling and you need to format disk partition.
Free Partition Software for Windows 10 Hard Disk Partition Extending
Although there are many solutions for Windows 10 hard disk partition extending, the easiest way is to use partition software for Windows 10. IM-Magic Partition Resizer Free is a free partition magic tool, which enables you to extend system partition or data partition on Windows 10 without reinstalling system or touching any data on the disk.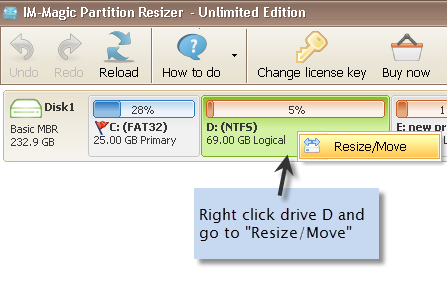 Download IM-Magic Partition Resizer Free Edition