System partition is nearly full with no more available space on Windows 7, but PC is unable to extend the volume size of C drive after trying every method you know? C drive space is usually eaten up by Windows system updates and some temporary files, junk files, cookies and caches, etc. There are several solutions for C drive expanding on Windows 7, but it is a common situation that PC often fails to extend its volume size finally because all Windows built-in disk management tool has some limitations. This article will introduce the reasons why and how to fix the problem when Windows 7 is unable to increase the size of C partition.
All methods for Windows 7 C Drive Increasing
Method1. Extend C drive under Windows 7 Disk Management
Method2. Expand volume size of C drive with Windows 7 Diskpart command
Method3. Free partition software for Windows 7 system partition resizing
The first two methods are Windows 7 built-in disk management tool, with which you can perform partition resizing on your computer. The third method is partition manger software. Usually, you may run into the problem that is not able to extend system partition on Windows 7 when using Windows built-in disk management tool to resizing disk partition.
Unable to Extend C Drive without Unallocated Space on Windows 7
You have to move free space from another partition on the same hard drive in order to extend C drive, so unallocated space is very important if you want to expand volume size of C partition. Unallocated space is different from free space. Unallocated space usually refers to a volume that has not been formatted with a regular file system, while free space refers to the space on a disk partition that has not been used. When you open a partition on Windows 7, you may find that it still has lots of free space, but you cannot directly add the free space to another partition. You have to convert the free space to unallocated space at first. Therefore, you may fail to extend C drive if you still have not get any unallocated space from other partitions on the same hard disk.
How to convert free space to unallocated space?
As long as there is free space on any other partitions on the same hard drive, you can run Windows 7 Disk Management and then shrink the partition that has much free space. You can get unallocated space after shrinking partition.
Notice:
Even if you have gotten some unallocated space, you still need to move the unallocated space close to C drive if you want to add it to C partition. Disk Management on Windows 7 is not able to move any partition, so you may need to delete the partition between C partition and the unallocated partition or use a partition tool.
Cannot Extend System Partition with Diskpart in Win7
Whether there is unallocated space or not, your PC will report that the selected volume cannot be extended if you run Diskpart command to extend system partition in Windows 7. Why? If you spend one minute to learn information about Diskpart command before running it on PC, you may know that Diskpart does not support to extend system partition. Therefore, you do not need to feel surprised if Windows 7 fails to extend volume on C drive by using Diskpart command.
Fix C Drive Fails to Extend Problem with Windows 7 Partition Software
When PC fails to expand C drive with Windows 7 built-in disk management tool, IM-Magic Partition Resizer Free provides its users with one more chance for partition resizing. It is a free partition magic, which supports to increase system partition size without affecting the Win7 operating system. It does not have any limitation for disk partition resizing because it allows you to shrink partition, move partition and extend partition.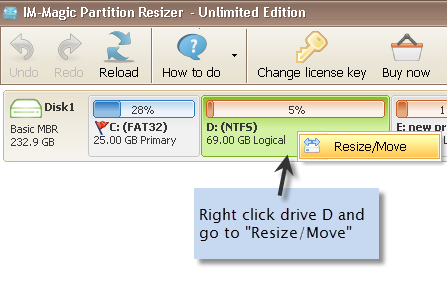 Download IM-Magic Partition Resizer Free Edition